Update 12/30/2017:  Lori Pinero of the Lorain County Task Force has been found (once again) issuing threats in an effort to silence our submitters.  Those attempts have been documented and added to this article for the viewers information.
Patricia Wright, who graced the cover of last weeks Scumbagged.com front page due to child abuse and so much more, is back at it again.  This time utilizing her friends within the Lorain County Task Force in a last ditch effort to defend herself.  This article contains additional damning evidence that supports the child abuse allegations and sheds light on her friendship with Lori Pinero, a member of the Lorain County Task Force.
Also See:  Patricia Wright Exposed: A Prostitute, Drug Addict & Child Abuser (Lorain, Ohio)
On December 29th, 2017 Lori Pinero of the Lorain County Task Force issued direct threats of lawsuits & police involvement for exposing her on this article regarding her cooperation and unethical stance in this case.  The highly unprofessional and perhaps illegal (intimidating) screenshots can be seen below.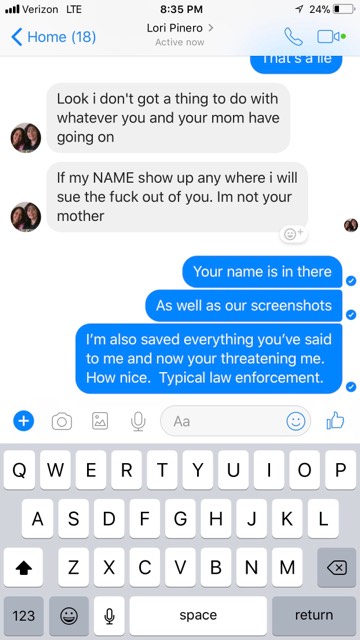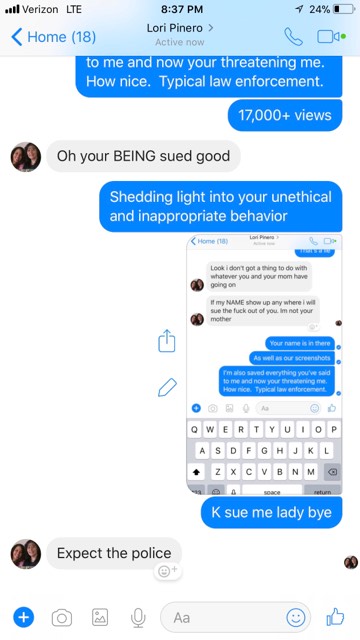 Not So Fun Fact:  Not only did Lori Pinero attempt to intimidate someone from utilizing their first amendment right, but she also directly aided Patricia Wright on Facebook – before, after & during the events that were transpiring as you'll soon discover throughout this article.
Since the abuse allegations surfaced on December 15th, 2017 Patricia Wright has not allowed her daughter to see her son or to even have a phone conversation with him.  The 24 year old 8 1/2 month pregnant mother has frantically utilized all available avenues at her disposal – some of which will be coming into the front and center in the legal system next week.
On December 23rd, 2017, Patricia Wright's frantic daughter, Amber Horvath, paid a visit to her mothers residence after not being able to speak to her son for a period of 8 days.  She walked up the steps to the 3rd floor of her mothers residence off of Georgia Ave. in Lorain and knocked on the door in an effort to speak to her and with hopes of seeing her son.  Within a matter of 60 seconds the police were called on her.  That recording can be found directly below.

Photographic Evidence
The original article withheld critical information such as the audio recording above and the picture below as those documents were not submitted.  In the new picture of Amber Horvath's son 3 deep gouge marks can be seen on the childs left cheek area.  Patricia Wright claimed "It was an accident, I was just going to smack his hand and I accidentally hit him in the face".  It should be noted that according to his mother, this is not the first case or incident in which she has left the child with bruises or markings.
It's not just physical with her, it's verbal, it's mental, it's everything.
Amber Horvath had the following statement to share regarding this situation:  "She has done it before, I wasn't in a position to step in and do anything about it, I feel bad, but now that I'm sober I am able to.  I thought he was in the best place at the time when I had my own personal issues and I realized just how badly my mother was treating him (and my other nephews and nieces).  It's not just physical with her, it's verbal, it's mental, it's everything.  She doesn't work, she doesn't own a car, she doesn't have car insurance, she doesn't have a home in her name, she does drugs, she's had bed bugs, lice & moved 4 times in the past 6 months.  She's doing everything wrong and I'm extremely worried about my son's future.  She is not capable of caring for him today, let alone for another 14 years – especially when my grandma who is 81 years old cannot continue to work.  I don't want my son to grow up hateful and spiteful of me for leaving him in this situation when I knew the things that were happening to him.  I will do whatever it takes to give him a bright future."
COBRA Says:  The picture below is of Amber Horvath's son and Patricia Wrights grandson.  The grandsons face was gouged out by Patricia as to what she claims as an accident.  How you accidentally gouge out a 4 year olds face is in such a manner is fucking beyond me.  There is also videos of the child with deep scratch marks on his face – those have been reserved for court according to the submitter along with a plethora of other documents that are also being reserved by those involved.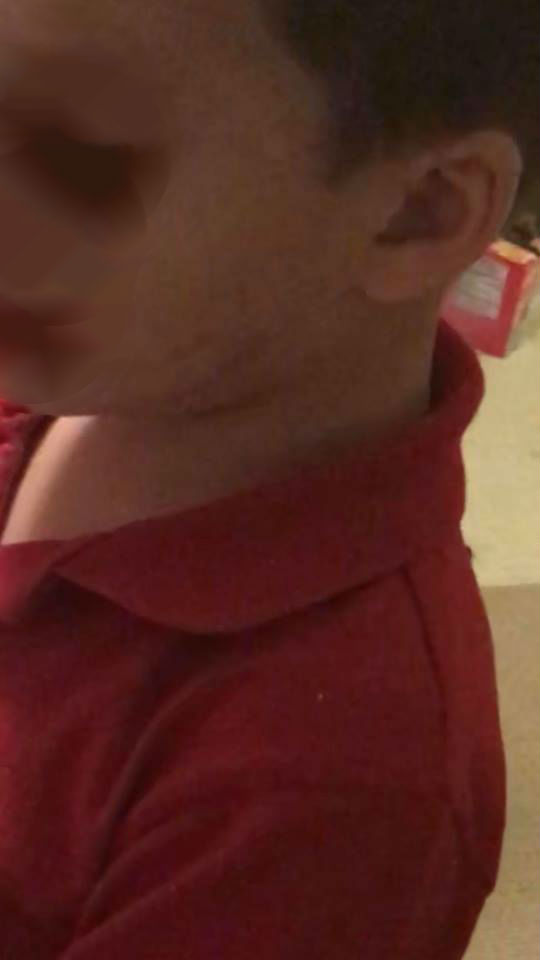 Lorain Police Involvement
Since the original article broke Patricia Wright has been utilizing her friend who works within the Lorain County Task force in an effort to save herself.  Lori Pinero had urged the concerned mother to take down the post that she shared of the original article saying "Please take this down and I will have him call you…".  Mrs. Horvath refused stating "Everything is the truth, I have no other outlet to use besides Facebook".  Since that posting the Lorain County Police Department have issued a Telecommunications Warrant, Misdemeanor-1 for Amber Horvaths boyfriend, Richard Humphrey, in retaliation for contacting Children Services.
In the screenshot below Lori Pinero of the Lorain County Task Force can be seen commenting on a Facebook users share of this article.  Her comment is highly unprofessional to say the least.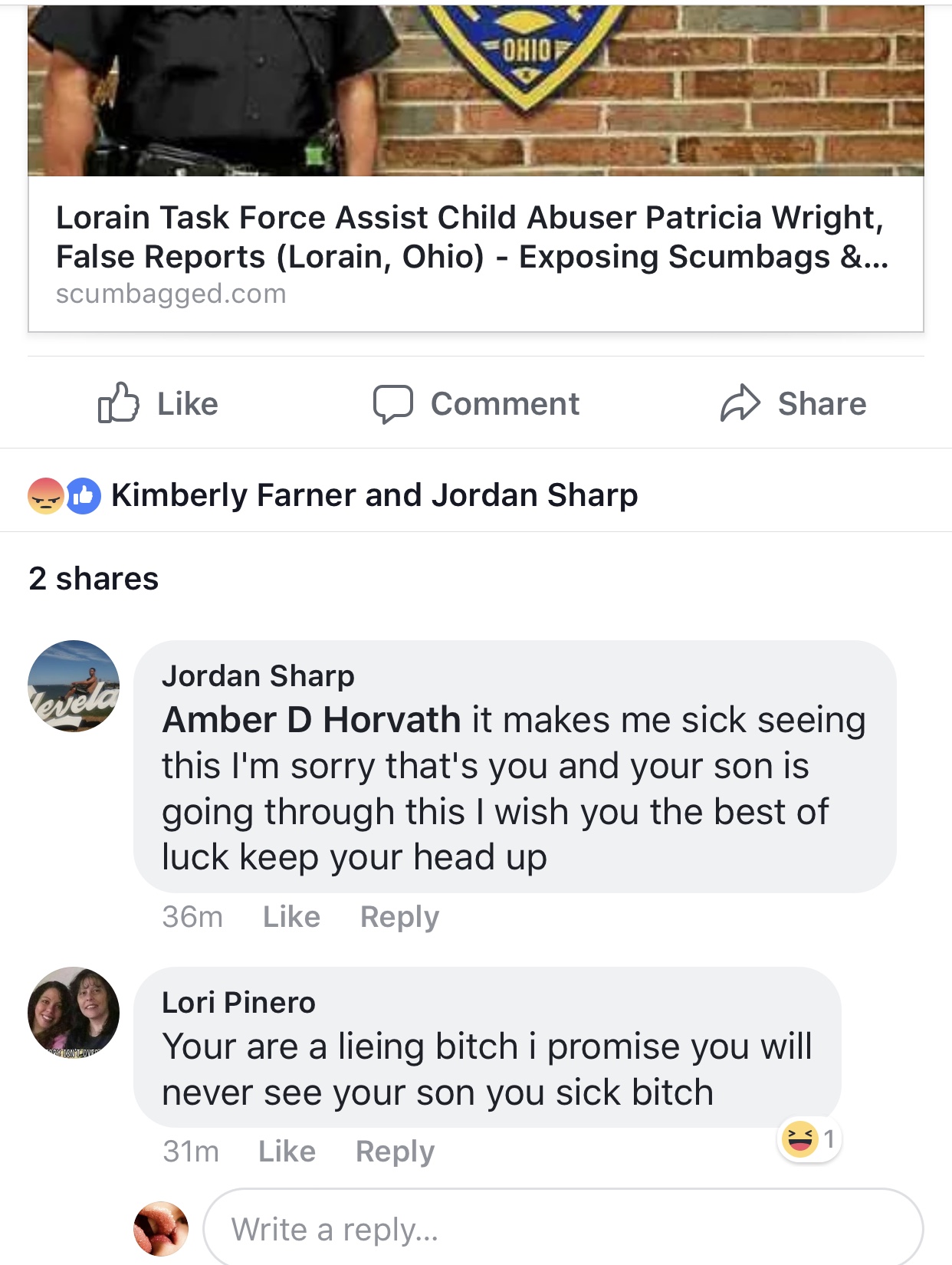 The telecommunications complaint against Richard Humphrey stems from the advice of none other than Lori Pinero.  Mrs. Pinero is friends with Patricia Wright and has guided her friend in her decision making.  The young mother was either faced with threats of the police or to take down the article (these statements have been also submitted but are being reserved for the court room).  In those statements Mrs. Pinero can be seen urging Mrs. Horvath to remove the post because the police will be called.  Unfortunately for Mrs. Horvath she couldn't remove the post, nor could Mr. Humphrey.  The following police record below shows the complaint lodged against Mr. Humphrey with the Lorain County Police Department.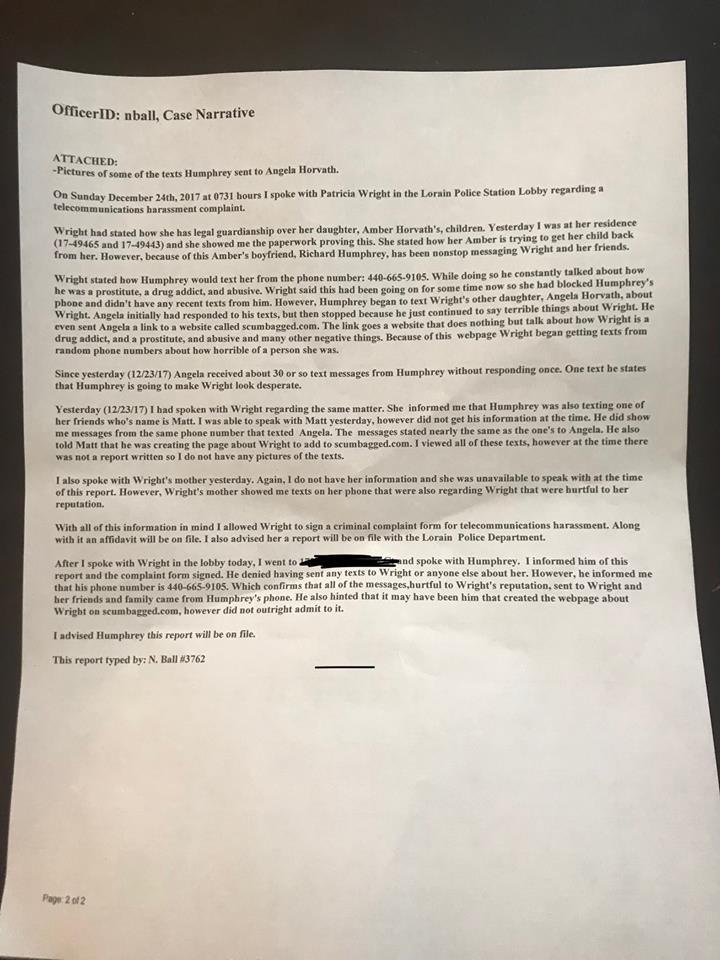 "Please take this down and i will have him call you" – Lori pinero
Lori Pinelo of the Lorain County Task Force advised Amber Horvath that she would be allowed to speak to her son if she took down the Scumbagged page.  That is a direct intervention and shows her being directly involved in the ongoing matter.  She also took sides immediately with Patricia Wright (her friend) based on pure impulse and without facts or reasoning (as unfortunately most cops do).

Evidence To The Contrary
Screenshots of text messages were provided by Mr. Humphrey regarding the complaint above.  We will break down the instances of this report and show the general public the grandeur of being able to file a false police report (especially while under the guidance of the Lorain County Task Force).
1.) Patricia Wright claimed that Mr. Humphrey made excessive text messages to her phone, yet provided zero evidence to support her claim.
2.)  Shirley Ranney (Patricia Wrights mother) provided the police with text messages that showed the two text messaging back and forth.  With Shirley Ranney saying at one point "You want him (the grandson) to wind up in foster care?  That is what will happen if you proceed with the abuse report I agree she isnt fit at times and she has issues and I understand what is happening but don't you think he is better off here and not in foster care because that is where he will wind up".
3.)  Angela Horvath received numerous text messages from Mr. Humphrey, but these were done on a friendly basis, one that was extended due to their friendship that they had formulated over the past 2 months.  In these text messages Angela Horvath can be seen saying "You text to fast lol …  Lol a customer asked if I was fighting with my man cause my phone kept going off like crazy…".  At that point during the conversation Angela was busy helping customers while she was at work, not one time did she tell him to stop texting her.  It was actually Mr. Humphrey who advised her to stop texting him (days later).
4.)  We spoke with Mr. Humphrey and he stated the following "I didn't say I owned Scumbagged to the cop, Scumbagged is owned and operated by National Innovators Group LLC.   The cop also asked me what my number was and I told him, then he said that I was the one that was texting Patricia Wright (he also wrote this in his statement), yet there isn't any available text messages to Patricia's phone to document.  As far as Angelas phone goes, unless they deleted her correspondence back to me in there, it's fairly apparent that there isn't any threatening or illegal text, we were engaged in a consistent conversation throughout – and about various things."
"Amber opens up a child abuse case and I get charged in retaliation."
He also went on to add "I'm looking forward to going to court over this matter.  It's a direct example of how the law fails so many people.  Amber opens up a child abuse case and I get charged in retaliation.  Ambers mom is accused of child abuse, and Amber can't see her kid.  Amber shows up to see what's going on and her mom calls the cops on her.  Kinda easy to see what's going on here in my opinion.  Anyways, I have a warrant for my arrest and won't be able to turn myself in until Tuesday due to the courts being closed until then.  What a nice little ploy on the behalf of the Lorain Police Department in an attempt to have me miss the holidays and an entire weekend – oh and perhaps the birth of my first son.  Nice try."

The Bottom Line:  There is a 4 year old kid out there who is being physically abused, mentally abused and emotionally abused by a 57 year old woman who is being aided by the Lorain County Task Force and the Lorain Police Department.  I think the irony behind this situation speaks for itself when I say that THE LAW IS BROKEN.
SCUMBAGGED Tip:  Still safe to say that the police are nothing more than a bunch of scumbags when they want to be.  The criminal justice system is so flawed to the point that anyone can file a complaint on anyone at anytime and some jackass prosecutor will stamp an approval on it just to get the system moving.  North Ridgeville has been thoroughly vetted, it's time for our submitters to submit information regarding the Lorain Police Department.  The sad story at the end of the day revolves around the child, the child who is being abused, neglected and not allowed to see his mother who has worked so hard to be back in his life.