AUGUST UPDATE:  A new article has been featured on Byron J. Larrosa and you can find that by clicking HERE.  Also see Byron making death threats against Scumbagged associates HERE.
Byron J. Larrosa originally from Queens, New York moved to North Ridgeville, Ohio approximately 4 years ago.  Since his arrival into the state of Ohio he has done nothing but contaminated every single person he's come into contact with.  This article will shed some light into this shady individuals daily activities and how his sinister ways have effected the communities in which you reside.
Some Background Info:  Nicknamed "Benny" his first love Angela resulted in a nasty breakup in which he was charged with Domestic Violence.  That charge was ultimately dropped but stemmed from insanely controlling behavior.  As you will learn this scumbag is extremely dangerous to women, especially women who are under the influence of a controlled substance.
Benny started off as a john and turned into a gorilla pimp.
After the breakup, the obese Benny decided that he was through with relationships.  And so he headed over to the infamous www.backpage.com where he began scheduling rendezvous with escorts listed in the Cleveland, Ohio area.  At this time Benny had a house in North Ridgeville, due to his excessive nature and what ultimately became a compulsion for sex, he was forced to downsize and relocated to the Ramada Inn in Elyria.
While at the Ramada Inn this is where Benny morphed from being the john and attempted to make the leap into the underground sex trade.  This is a tedious subject for many, there are many forms of prostitution, those that are of willingful participants and those that are not, the drug addicted, underage and lost souls that make up unfortunately the majority of individuals in that kind of world.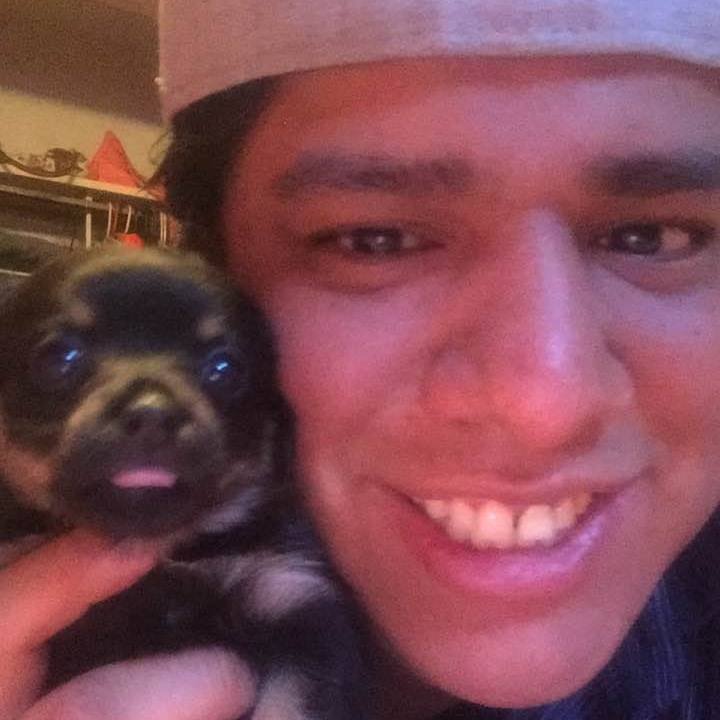 However Benny focused his new found skill set on taking advantage of the drug addicted.  Often picking up girls from half-way houses, rehabs and force feeding them drugs after they were trying to get sober.  Most of these events transpired at the Woodspring Suites in Avon, Ohio.  While there in the span of 2 weeks at the hotel in 2016 there was 5 overdoses for heroin.  The room was listed in his name.
A Nightmare For The Community
Moving forward in 2016 Benny found himself under scrutiny at the Econolodge in Elyria when the police raided his room.  Within that room there were 2 females that were both under the influence of narcotics.  The room was raided due to excessive traffic and questionable individuals were seen in the area, many calls were made to the Econolodge at that time.  When Benny and the girls were questioned, no information was given and so therefore no charges were pressed.
After the incident at the Econolodge, Benny upped the anti utilizing the methods in an attempt to conceal his erratic and sexually driven behavior.
He purchased a new 2016 model Hyundai Elantra to rid himself of his older model Chrysler 200.
He then signed up to work on behalf of Uber, to make additional side money, but most importantly to have a cover for his nightly "transports".
He relocated from Elyria and now stays on the West Side of Cleveland, removing himself from the scope of surveillance and any investigations taking place.
Benny is a sexual deviant, forcing the girls that would be turning tricks for him to perform sexual favors for him before each lick.  While in the midst of gorilla pimping (forcing women in their sleep even) he was also still contacting women off of Backpage.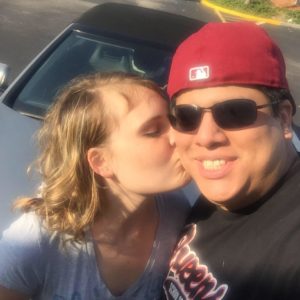 He drifts around from city to city, home to home.  Today he could be with your daughter, tomorrow he could be with your wife.  Slipping them something in their drink or trying to destroy any hope of a successful recovery from addiction.
He pretends to formulate heartfelt, emotional relationships with every single addict that he comes across.  Unfortunately his personality is one that appears jolly and very open, and therefore when preying on the weakest it was easy for him to manipulate.
Fun Info:  646-403-0110 (Mobile Cellphone), https://www.facebook.com/ByronjLarrosa  (Facebook)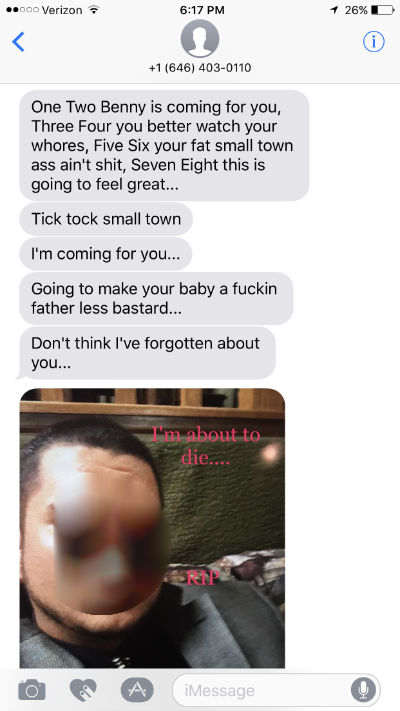 He went so far as to see a girl that was in recovery all the way in Florida, on Valentines day.  He showered the girl with flowers, gifts, clothing under the impression that once she was released from her inpatient rehab that she would return back to the Cleveland, Ohio area with him and continue working.  The day that this girl was released, she never spoke to Benny again.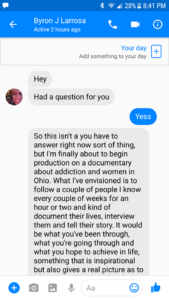 Be warned, this individual is not to be taken lightly, he is quick to gab, will make serious but idle threats and most importantly will stop at nothing to fulfill his inner most urges and desires.  He's made several futile attempts (that we know of) to molest women while sleeping or unconscious from drug induced comas, he's stolen the belongings of women that refused to work and conspire with him in his affairs.
One of his most common ploys in an attempt to recruit and abuse is his attempt to make a documentary of you.  He will offer payment in exchange for allegedly video recording your daily life, but only if you're an addict.  This information was submitted from various sources throughout the area and as you can see from the screenshots he uses very deliberate and manipulative approaches.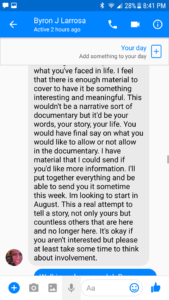 SCUMBAGGAGE Tip: Benny if you're reading this, stop being a fucking low-life scumbag. Your not a gangster from New York, your a disaster.  You need to stop manipulating and taking advantage of people.  Start trying to do the exact opposite of what you've been doing, see a counselor, control your urges and most importantly care about someone other then yourself! 
Community Note: If you've been approached by Byron (Benny) J. Larrosa and feel threatened, please do as several others have done and submit any and all information that you may have to us.  Let this scumbag know that you're not going to be manipulated for another moment!