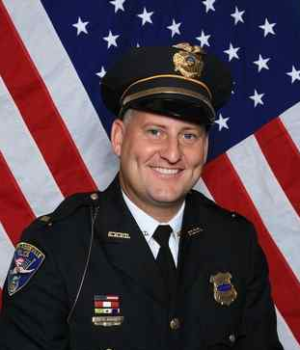 In any normal city in the United States being the chief of police is an honor, a position that is held in high regard and one that is handed to only the most trustworthy and loyal of peace officers.  Mike Freeman, of North Ridgeville, Ohio, used to participate extensively in the cities D.A.R.E program, starting with elementary kids at Wilcox and other schools in the city when he first joined the force.  His method was to instill the importance upon children at an early age that drugs and crime were bad.
Mike Freeman continued his career over the next two decades, slowly rising in his rank and becoming known throughout the community as a hard working, dedicated and loyal officer.  But even law enforcement officials can get burned out, grow tired of the same old grind, develop an unkempt mentality and behavioral pattern towards individuals within their communities.  Instead of protecting and serving, some can become aggressive, overbearing and unlawful.  This is precisely what happened with Mike Freeman, the Chief of Police for the city of North Ridgeville, Ohio.
"I'm Sorry Sir, I forgot my doggy tags today, you're going to the pound"
In the summer of 2008, a resident of North Ridgeville was at the Mills Creek Marathon gas station with one of his friends, Bryan Marlon, and another individual.  Mr. Marlon was urinating outside behind the gas station when Chief Police Freeman drove by and saw Mr. Marlon.  He immediately proceeded to stop Mr. Marlon and ask him what he was doing.  At that time the young man and the driver of his vehicle made an attempt to vacate the property.  Mr. Freeman said "Don't even think about leaving".  At which point the man instructed the female driver of his vehicle to pull into a parking space and stop the car.
The 19 year old then got out of the vehicle and walked over to Officer Freeman and asked him why he wasn't able to proceed to his home.  Officer Freeman stated that he could smell alcohol on the mans breath and asked him to sit in the back of his police cruiser.  The man complied and got into the back seat as directed.  Officer Freeman continued to talk to Bryan Marlon and the driver of the mans vehicle.  The girl was ultimately cited for not having a valid operators license and Mr. Marlon was let go with a verbal warning.  The young man however, wasn't so fortunate.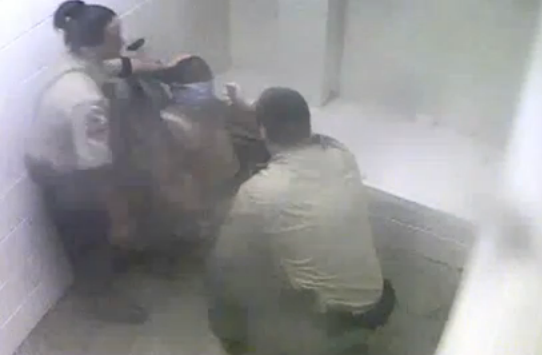 Freeman then made his way back to his police cruiser where the man was being detained and asked him if he would submit to a breathalyzer.  The man informed Officer Freeman that it would be pointless to administer such a test as he was clearly intoxicated.  The officer then told the man that he would be cited for underage consumption and wrongful entrustment.  Mr. Freeman then went on to say that the mans parents would be able to pick up his vehicle and him within a few minutes.
Lies, Manipulation & Aggression
Shortly thereafter Chief Police Freeman then got into the front seat, adjusted his rearview mirror so that the man could be directly in his sights, started the vehicle and began pulling away – driving in the opposite direction of the mans home, which at that time, was Mills Creek South.  When Richard asked Mr. Freeman where he was going, the officer informed him "Sorry sir, I forgot my doggy tags today, looks like you're going to the pound".
Once at the precinct, Mr. Freeman attempted to strip and cavity search the man upon entry into the booking area due to a baseless suspicion of drugs.
The young man then instructed the officers to place him into a 4-point restraint because he was becoming extremely agitated and didn't want the situation to implode.
After being placed in the 4-point restraint another officer while in the presence of Mr. Freeman began hitting the man in the head and telling him he was "nothing but a punk".
After being placed in the restraint chair and being physically and emotionally harassed by "peace officers" the extremely intoxicated man erupted in profanities.  Exclaiming that he would "Kill the officers, their families, burn their houses down and rape their wives".
Chief Police Freeman then charged the man with F3-Intimidation for the verbal atrocities that he had spewed during his drunken state to his fellow officers.
The man was left in the 4-point restraint for upwards of 6 hours, screaming and irate during the entirety of his stay (who wouldn't).
Officers on duty continued to badger and belittle the man within the confines of the jail.  They also called his probation officer at the time "Dawn Resar" up to the station to witness this extremely agitated drunken man.
In July of 2008 the man plead guilty to F3-Intimidation against peace officers and was subsequently sentenced to complete the CBCF (Community Based Correctional Facility) program located in Elyria, Ohio.  The man successfully completed the program and was released in December of 2008.
What happened to the officer that struck the man in the head several times and verbally taunted him?  You guessed it.  Absolutely Nothing.  Not a single officer reprimand could be found dated from this altercation.  Mr. Freeman on the other hand witnessed the entirety of the events and it was he whom decided to push the paperwork to the prosecutor in an effort to "clean up the streets".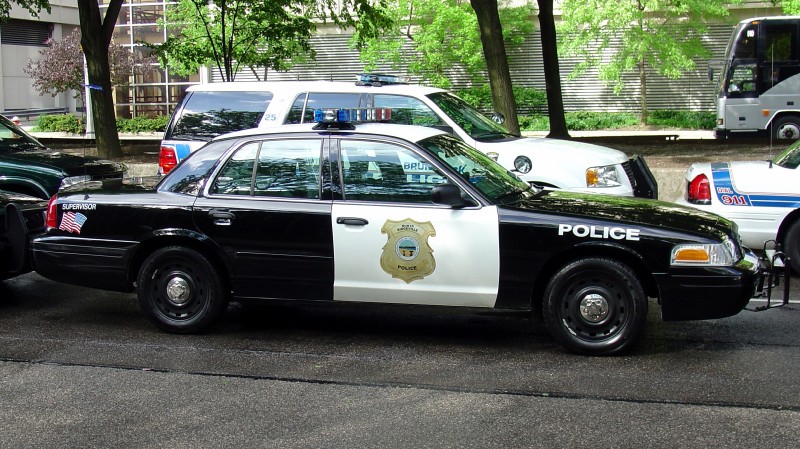 Moving forward in 2010, Chief Police Freeman then has a run in at the North Ridgeville Taco Bell, where a domestic dispute has led himself and several other officers after a young man who had been arguing with his sister earlier in the evening.
Upon arrival at the local Taco Bell, this individual in questioning reached for his cellphone while still in his vehicle and was shot upwards of 5 times by Mr. Freeman of the North Ridgeville Police Department.  No gun was found.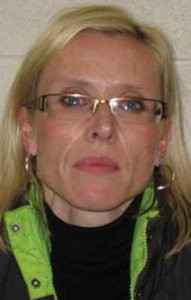 Years went by and no reprimands ever came, instead praise was heaped upon Mr. Freeman who eventually was promoted to the Chief of Police for the city of North Ridgeville.
All the while rumors swirled inside the precinct and throughout the community over missing confiscated money, drugs and valuables from various arrests over the years (jewelry especially).
But who would ever suspect a decorated officer, let alone the Chief of Police of one of the nations safest ranking cities to be of any wrong doing?  Whether it be a justified shooting, a manipulation of police paperwork or the clumsiness of evidence record keeping?  His home life also exemplified his life-long career as a police officer.  For the most part everything appeared perfect, not a single blemish could be found.  Nobody would ever pay attention to a felons cries for an assault while in a 4-point restraint, or a mans objection over being shot for reaching for his cellphone during the course of a misdemeanor Domestic Violence pursuit.  Why would they?
After you've finished reading also see these related articles:
Then on Sept 17, 2013, Elaine Freeman, Chief Police Freeman's wife, was arrested for stealing $188 of clothing and other goods from the Kohl's department store located within Avon Commons. She was then sentenced to 10 days in jail, fined $250 dollars and received 30 days of house arrest. The irony behind this story is that it wasn't her first time being convicted of shoplifting. Indeed, she had a prior offense on November 19th, 2012, when she was arrested at the Avon Commons Target for shoplifting.
Rumors within the Avon community are that police Chief Freeman's wife at the time of her arrests had a pill addiction (opiods, percocets, valiums, xanax).  She is still battling her various chemical dependencies to this day.
Fun North Ridgeville Police fact:  North Ridgeville officers on duty Mr. Larkin (wife is a lifelong marijuana smoker), Mr. Lee (brother is a lifelong marijuana smoker).  Both officers have made marijuana arrests within the city, both officers have turned a blind eye toward their spouses or relatives for these offenses.  Is this a double standard?
In the beginning when people start their illustrious careers in law enforcement they have a passion and are motivated by certain things; Protecting their loved ones, protecting the public, living for something righteous.  Overtime, the laws can become blurred, secret internal agendas are forged and a malicious mentality can form and overtake the officers purpose.  Whether it be an inability to remove the home life from the work place or the stressors of life in general, each occasion has it's own.  Sometimes however, these officers and those in power begin to think that they are invincible, untouchable and above the law.
Chief police freeman then became irate and demanded that his wife be released from custody.
After his wifes arrest Chief Freemen objected to her being arrested.  Stating that she should have just been "cited and released". As a result of his attempted influence (which could also have been viewed as Obstruction of Justice according to many liberals whom seem to think Donald Trump "Obstructed Justice" when firing Comey he was reprimanded by the Mayors court of North Ridgeville and ordered to undergo Anger Management counseling.
So there we have it.  This is our very first SCUMBAG.  Chief of Police Freeman, the innocent officer who lost his way.  Who went from D.A.R.E programs and working within the community to in some cases conspiring against it.  From shooting misdemeanor offenders in the parking lot of Taco Bells to allowing officers to beat on individuals while in 4 point restraints and enabling his wife to continue her destructive path.  This scumbag is still active in his role as the Chief of Police for the city of North Ridgeville, Ohio.
SCUMBAGGED TIP:  Hey Chief fyi it's not only wrong, but due to your profession, it's highly unethical and oh did we forget to mention fucking illegal to have done some of the things you've done.  Perhaps you should refresh yourself on the basic principles of being an officer of the law, starting with your oath of honor…
On my honor, I will never betray my badge, my integrity, my character or the public trust. I will always have the courage to hold myself and others accountable for our actions. I will always uphold the constitution, my community, and the agency I serve.
Please understand that not all members of law enforcement behave in this manner.  In fact many of those in the criminal justice system are of outstanding repute.  Everyone is entitled to making mistakes, but it's about the degrees of those mistakes and what you do to correct them.  Our society needs law enforcement and we thank all of those who are serving and protecting our communities!
References: