The Walking Dead Duo of Katie Seibert and Steven Gilbert have been exposed for the heroin dealers that they are.  The two are directly responsible for numerous heroin overdoses across North Ridgeville, Elyria, Columbia Station & Lorain over the course of the past 3-5 months.  In two documented submissions an overdose occurred with text messages and phone call logs to back up that the heroin was purchased from Katie & Steven.
In addition to the substantiated claims, Katie & Steven's own neighbor, Jeremy Murray also confirmed via a conversation from another concerned and irate individual that they were selling and using heroin out of their Elyria home.  Mr. Murray corroborated that he had seen, witnessed and communicated with another individual who had arrived to grab heroin off of the couple.  All of these conversations, as well as images of "The Walking Dead Duo's" homes, vehicles and other personal information can be found within this article.
WARNING:  Approximately an hour after this article published Steven Michael Gilbert began threatening the individuals (who he believes) were responsible for this submission.  He has numerous firearms that he has within his Elyria home and carry's them with him in his vehicle.  
In September of 2018 a young man (name redacted) arrived at 1140 12th Street, Elyria OH 44035 to grab heroin.  Upon arrival he went inside the home and met with both Katie Seibert and Steven Gilbert.  Shortly afterwards he returned home where he overdosed and died.  He was luckily revived as his concerned girlfriend found him lying on their bathroom floor and called 911.  The home and the address in question is the home residence of Katie & Steven.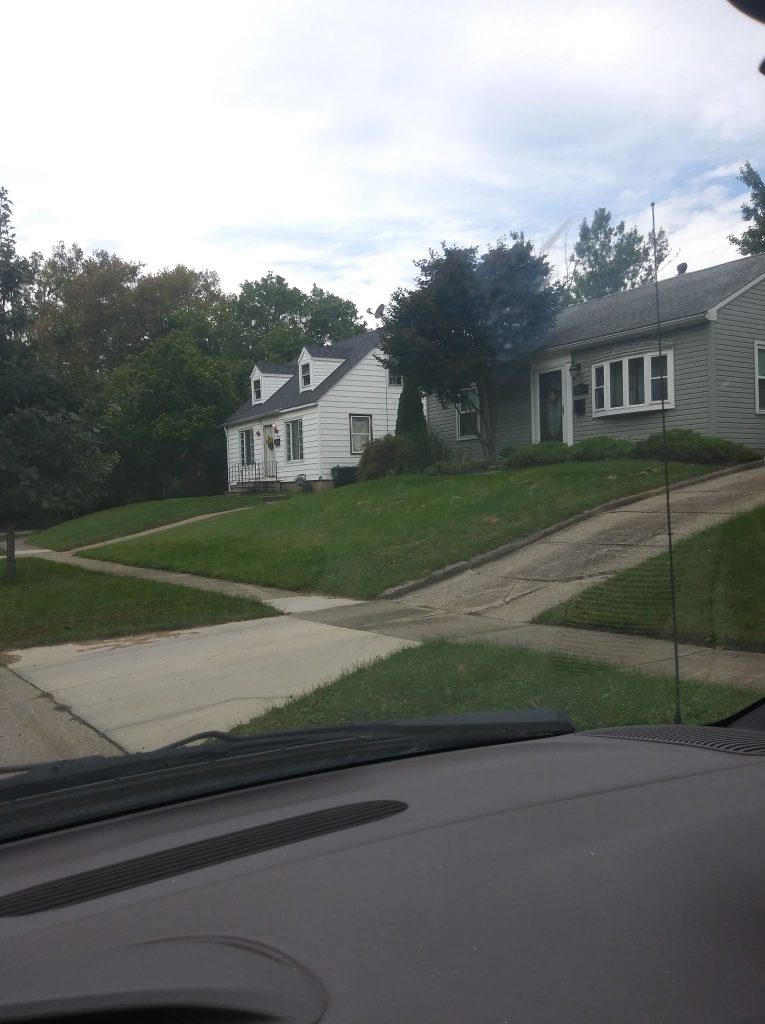 COBRA Says:  It's fairly apparent that both Katie Seibert and Steven Gilbert have zero intention of stopping their deceptive, damaging and harmful ways throughout the Lorain County community.  Both of them are Scumbags who chase money at the expense of others lives…
The Evidence
Steven was informed on September 1st "I swear to fucking god if you selling my bf fucking dope again I will come to your fucking house with the cops you piece of fucking shit". To which he replied "Okay" and then attempted to place a call to the individual who had informed him that enough was enough.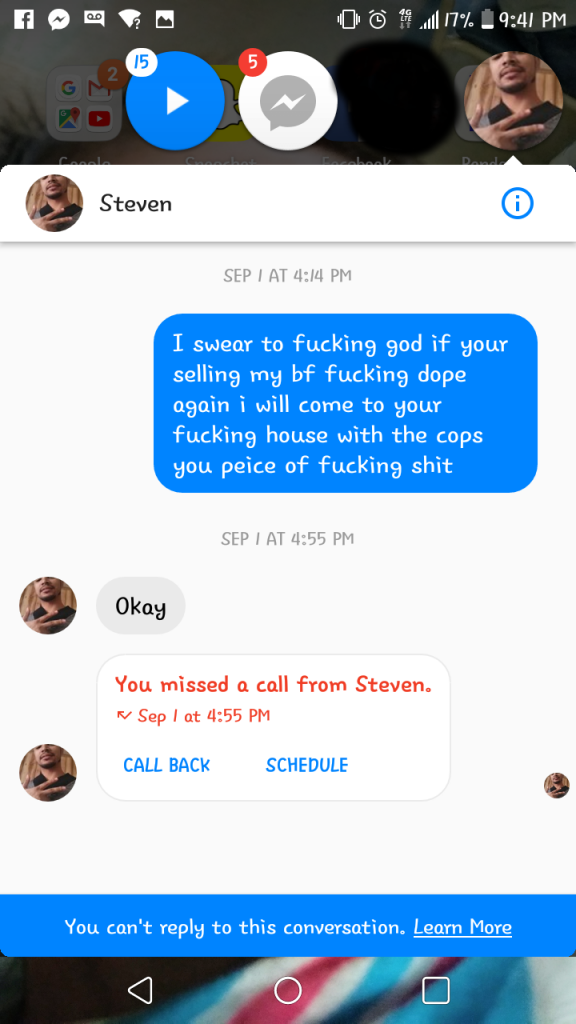 Katie Seibert was informed by another concerned individual "Every time he gets paid he calls you. When he gets out of jail I suggest you continue to sell poison to everybody but him because I have all the info & proof and phone numbers I need incase he dies again. Remember that babies face when u even THINK about dealing with him again because I will do WHATEVER I have to do to protect his life and our sons. Haven't you had enough of this life anyways Katie? You're worth more than you have given yourself for years you are actually a sweet girl.."  This conversation actually contained a bit more than the quote above and is depicted in the screenshots below.
Jeremy Murray, the neighbor of Katie Seibert and Steven Gilbert also expressed his various concerns for one individual who overdosed shortly after leaving their property, that conversation can be found below.
The Vehicles
Katie Seibert is driving a newer Silver Toyota with license plates of HJP8313 and her boyfriend Steven Gilbert is driving a dilapidated 2000ish Taurus.  It has been rumored that her vehicle was paid for by Dr. Biswajit Das, who is a lead researcher for the Cleveland Case Western Reserve University.  Mr. Das has previously been exposed for his direct links to Katie Seibert and other drug addicted women from Lorain County.  You can read more on that here:  Dr. Biswajit Das Exposed:  Drugs, Prostitution & Forged Prescriptions (Cleveland, Ohio).
Rap Sheets
Steven Gilbert:  5/2/2018 – Failure to Appear, 3/3/2018 – Obstructing Official Business, 1/31/2018 Driving Under Suspension, Receiving Stolen Property, Contempt of Court 1/10/2017 – Trafficking in Drugs, Possession of Controlled Substance, Tampering with Evidence, Possession of Controlled Substance, Trafficking in Drugs, 1/12/2016 – Acts in Contempt of Court, 5/6/2015 – Failure to Register as a Sex Offender, Acts in Contempt of Court, 11/17/2014 – Tampering with Records, Acts in Contempt of Court, 10/13/2014 – Tampering with Records, 9/2/2014 – Acts in Contempt of Court.
Readers Note:  Mr. Gilbert has even more cases found in Elyria Municipal Courts, Elyria Common Pleas Courts, Lorain Municipal Courts and Cuyahoga County.  Search him up.  
Katie Seibert:  2/22/2017 – Drug Possession
Readers Note:  Katie Seibert has only been officially booked into the Lorain County Jail on one occasion, yet she has been involved in numerous charges, crimes and has had pending cases over the past 5 years vanish without a trace.  The reason?  Some jurisdictions out there seem to feel her value on the streets is more than it is behind bars.  Perfect sense to allow someone like her to continue wreaking havoc on communities. Not…

Related Articles:  Katie Seibert has been featured in two previous Scumbagged.com articles.  They can be found below:
The Bottom Line:  These two individuals have been submitted going on more than 5x in the past 365 days.  Both of them have shown zero acceptance or responsibility for their actions, both of them have been to jail numerous times and are being faced with pending or secret indictment related charges.  Both are considered armed and dangerous (with fentanyl).
SCUMBAGGED Tip:  It's best to avoid using drugs at all costs.  If you have a heroin addiction, remember, you never know who, what or where the drugs are coming from or what the drugs contain.  Individuals are attempting to make as much money as possible, which means fentanyl is being introduced as cut.  If you happen to use again, the next time could be your last…
Heroin (Drug) Addiction Help:  The Wellington Police Department offers immediate inpatient treatment (even if you have a warrant in some cases) through their LINC program.  If you are suffering from addiction give them a call at (440) 647-2244 or even contact them via messenger on their Facebook: https://www.facebook.com/Wellington-Police-Department-759508177392915/