Emil Gamidov is the owner of ONYX Health Club 24/7, a prominent gym that has 7 locations spanning throughout Northeast Ohio.  The locations of the gym's can be found tucked away in various plaza's or industrial parkways in the following cities:  Fairview Park, Parma, North Olmsted, Northfield, Niles, Wadsworth & Mentor.  From the outside looking in ONYX Health Club 24/7 is a typical gym with free weights, cardio equipment & personal training that is ran by a law-abiding, family oriented entrepreneur.  Gamidov gives off the impression of a man who takes pride in his business, his family and his community.  However, looks can be deceiving and such is sadly the case with Emil Gamidov…
Over the past 4 years Gamidov has conned, scammed, defrauded and manipulated almost every single person that he has come into contact with since he started ONYX Health Club 24/7.  From members to contractors to landlords, property managers to banking institutions, employees, general managers, business partners and even Valerie, his own beloved wife.  Emil has lied, cheated and stole his way to reach his goal of becoming a part of the top 1% in America.
Emil has largely surrounded himself with prostitutes, felons & fellow thieves.  He's forged documents to obtain equipment loans, personal loans, changed the dates on checks to avoid egregious late fees for past due rent, robbed contractors outright, manipulated contract data to pocket build-out money (or free months worth of rent).  His asset purchase agreements for many of the clubs he consumed wasn't even his own legal document.  He stole Powerhouse Gym's Asset Purchase Agreement that was drafted by their attorney and manipulated by himself.  His beautiful wife Valerie, is totally unawares or turns a blind eye to his late nights, how on more than one occasion he has forgotten to wear his wedding ring, smells of women's perfume and has gotten way too close for comfort with many of his female staffers.  If you're one of the many that was conned and manipulated by the charming man with a smooth tongue and big promises that wears Armani suits, drives fancy cars (Bentley, Porsche, BMW, etc.), sailed on his private yacht or spent time at his Terrington Dr., home in Brunswick, then you already know what and who he truly is.   Emil Gamidov is a serial fraudster, a thief, an adulterer, a liar and a certifiable narcissist.   This, not ONYX, is his everlasting legacy…
READERS NOTE:  This article contains screenshots, email correspondence, text messages, case information and other specifics (names, dates, employee's, expenses, etc.) that will serve to both substantiate and corroborate all of what you are about to read.  In addition, the initial portion of this exposé is summarized in the first half, followed by the in-depth purview in the latter.   The purpose of the summary is to ensure that you, the reader can grasp the severity of this article effectively & coherently.
LEGAL NOTICE:  Scumbagged.com reserves the right to redact and restrict information.  In this case, we have chosen to save additional submitted information (audio, video & documentary evidence for a follow up article).  

A SERIAL FRAUDSTER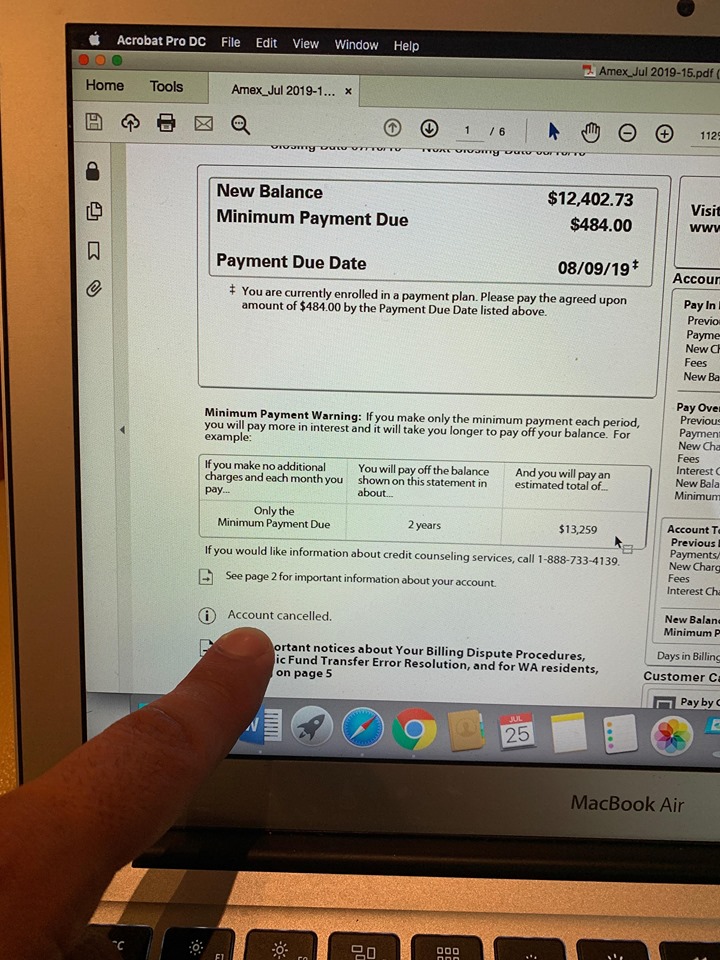 Emil Gamidov has committed fraud on numerous occasions in order to secure both funding, sales, members & equipment for many of his ONYX Health Club 24/7 locations.  Gamidov has gone as far as to manipulate his and his wife's credit account holdings to reflect closed accounts that were open, adjust balances and white out or entirely change portions of legal ledgers.  He's changed dates on scanned checks to avoid late fee's and had individuals pose as landlords and business partners with financial institutions in order to continue to obtain much needed funding and loan power.
The screenshot below shows direct communication of Emil attempting to alter the document in order to secure funding for gym equipment.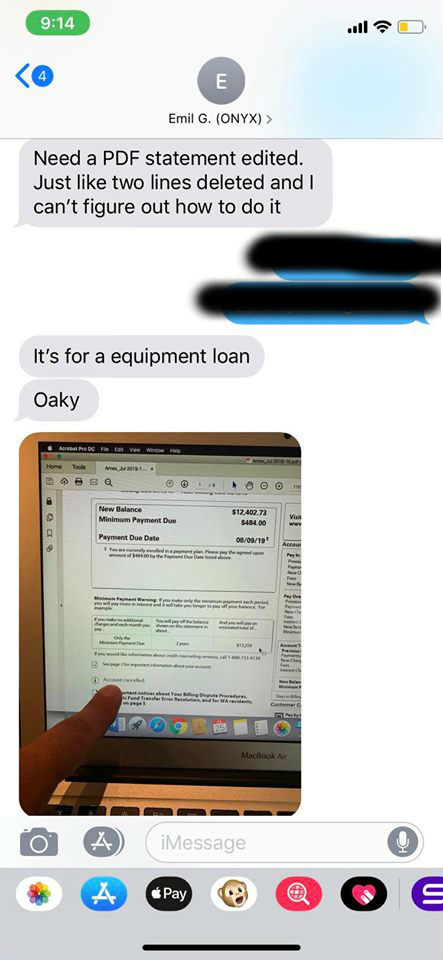 In addition to manufacturing documents (forging) for borrowing power.  Gamidov has done extensive back door deals with local area gym's, buying out their member bases, porting over the members into his draft and billing them without fail.  In many cases members are left in the dark about the acquisition and forced to carry over to their new gym.  Their credit cards are billed and when asked for refunds, in many cases it has taken months and months for them to be processed (if at all – see "Negative Reviews" further down this article for more documentation related to these refunds).
AN INVESTIGATION
The ONYX Health Club 24/7 gym in Fairview is currently located at 21649 Lorain Rd. Fairview Park OH 44126.  Would it be a surprise that this exact location is where the "Workout Anytime" gym used to be that was just recently in the news for, you guessed it, defrauding there members!  Who was purchasing the club behind the back before this all transpired?  You guessed it, Emil Gamidov.  In yet another ploy to spend a few bucks to obtain a member base that he could bill over and over again, drag his feet for a few months on refunds, make his money back, gain a few members and ultimately reap the monetary rewards…  This has been done with numerous clubs in Parma, North Olmsted & elsewhere.  
THE SHADY NORTHFIELD SALE
Emil Gamidov sold ONYX Health Club 24/7 of Northfield in excess of $200,000.  This sale was filled with a ton of untruth's.  For starters, Emil had told all of the existing members at the club during his tenure that an expansion into the adjacent building would turn into fruition by the Spring of 2019.  This was a lie.  Not only was Jason Lewandowski told that the permits were in place to continue the expansion when they were not (by Emil), but he also had to mitigate the mass of members that were outraged over the fact that the extension had dragged on for years with date after date being missed.  There was also a huge blow-out with John Ceabuca (the lead Personal Trainer of ONYX Northfield) who by many accounts was highly respected and widely liked.  This situation occurred because of yet more promises made by Emil to individuals that just never had any weight behind them.
The equipment that was purchased by Mr. Lewandowski at this facility in all actuality belonged to the notorious Dave Barna (you'll hear more about him shortly down in this article as well) and was worth a paltry sum, far far less than Jason could ever possibly fathom.
In all fairness, Northfield ONYX Health Club 24/7 is owned by Jason Lewandowski and is truly the only health & wellness center in the ONYX stratosphere that holds any value and cares whatsoever about their members.
COBRA Says:  Seeing a pattern here?  Emil Gamidov is a cutthroat in the fitness industry that will accrue his own personal wealth by any means necessary, and it will surely be at your expense!

AN ADULTERER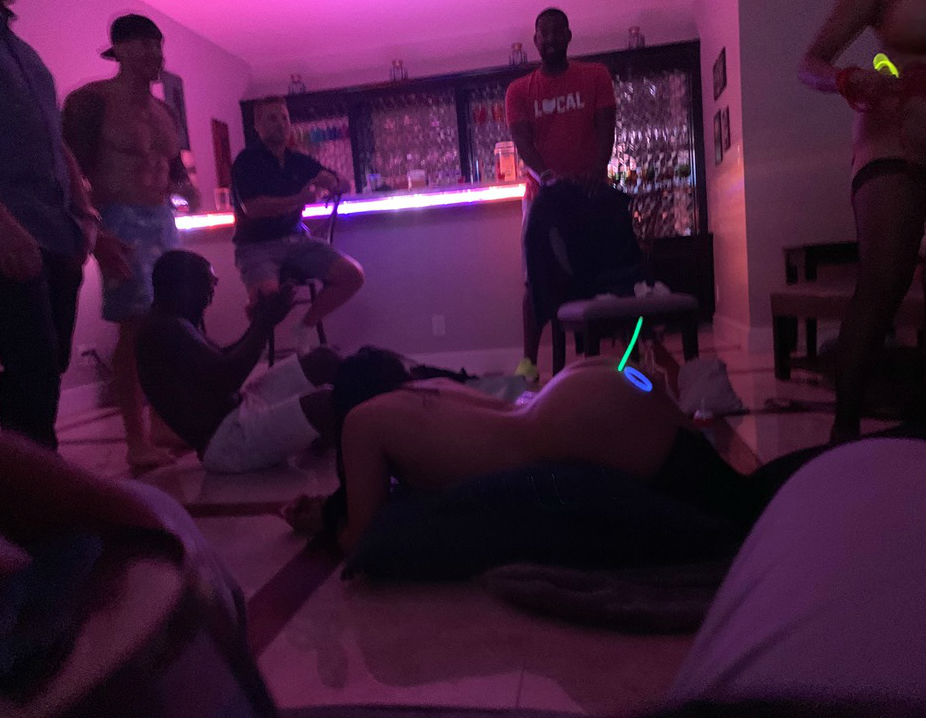 Emil Gamidov has notoriously cheated on his wife with everyone from the women that he employ's to those that he randomly would pick up at the downtown bars (Barley House) while cruising in his Bentley to life-long friends to escorts and even high-end prostitutes.  In 2018, Chelsea R. M. contacted Emil and threatened to expose their long-time affair after he had fired her from her position at ONYX.  She was initially employed as the General Manager of ONYX Health Club 24/7's Mentor facility and after further research it was discovered that she was a porn-star and had a lengthy rap sheet for possession of meth, firearms, and more.  Her porn name? Madelyn Rose…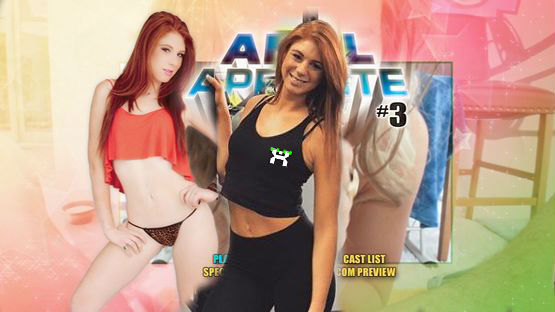 There have been countless other women that Emil Gamidov has cheated on his wife with.  From both inside of the ONYX Health Club 24/7 health & wellness club to outside…
It is without question that his wife has questioned him regarding his late nights and the fact that he has left his wedding ring behind on numerous occasions, but through it all, she has kept faith in her husband, her lover and her provider that he has been faithful, honest and loyal.  Mr. Gamidov will attempt to spin, deny and make outright claims that the aforementioned isn't true, however, the following screenshot provides even further evidence to his adultery.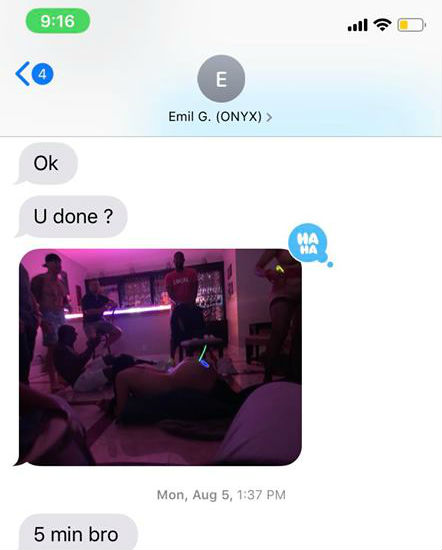 While at this bachelor party, the men played games with the women initially while they were fully nude.  Games such as throw the ring on the glow in the dark pole in the girls bottoms, whoever had more rings won!  They also drank liquor out of the women's vagina's and ultimately Emil Gamidov (like several of the other men) opted to take fully nude showers with the women one at a time – where Emil Gamidov cheated on his wife, this time with a prostitute.
After it was said and done, Emil attempted to have the women flown back to Ohio where they could potentially embark in the same style of work here, until he learned that the laws governing an escort business and the type of activities that the women were accustomed to would result in Prostitution related offenses.
NOT SO FUN FACT:  Gamidov also is a notorious video recorder.  In the videos of his estranged rendezvous and late night 'romps' he candidly jokes about his large (it really is) endowed male genitalia.  He show's these videos to close friends like trophy's as well.

A DELIBERATE THIEF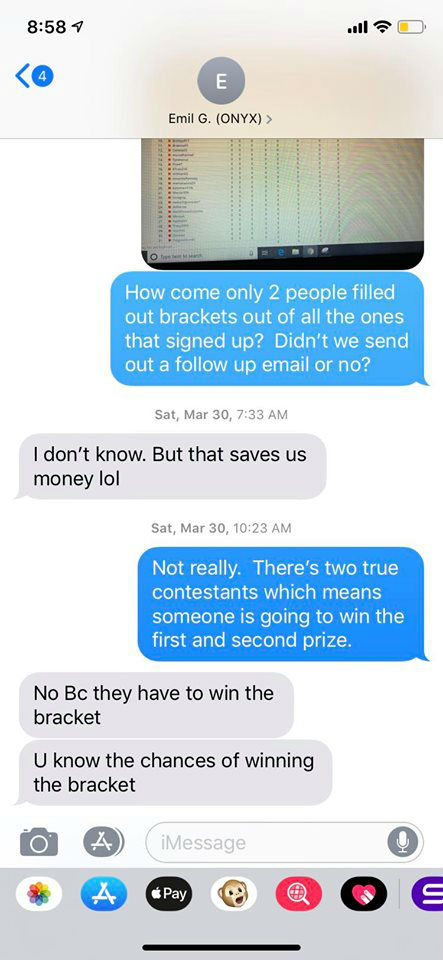 ONYX Health Club 24/7 rarely, if ever, honors the prizes that are attached with the promotions that they run (promotions pertaining to the Emil Gamidov owned and operated clubs, ie; not Northfield).  In addition, the promotions that are ran, in many instances, are not as described.
Promotion:  Easter 2019 Promo (Parma) offered 1,000+ Easter Eggs & the Easter Bunny.
What Happened?  No Easter bunny, only 200 eggs, and Emil wound up ordering pizza because there wasn't enough candy for the kids.
Promotion:  March Madness 2019 Promo (Club-wide).  Offered a bracket challenge with the top two contestants entering the bracket winning a TV and the other winning a mountain bike.
What Happened?  Nobody received anything, Emil paid out zero prizes as promised.
Promotion:  ONYX Health Club 24/7 Parma Grand Opening.  Chance to win a vacation package for 2!

What Happened?

  Again, no vacation package was given to a single member.
COBRA Says:  Regardless of what you may have been told or think you know about this company, it's not as it appears.  If this isn't the definition of a scam with fake promotions, fake prizes and highly manipulative contracts stuffed with hidden customer appreciation due's (for upkeep of equipment) and so on and so forth, then I don't know what the fuck is!?!
BLACK FRIDAY / BOGO'S
Let's not forget about those Black Friday or BOGO specials that ONYX Health Club 24/7 so often runs.  Limited to the first 100 or the first 1,000 members only!  This is a bold faced lie.  In fact, Mr. Gamidov has said so himself…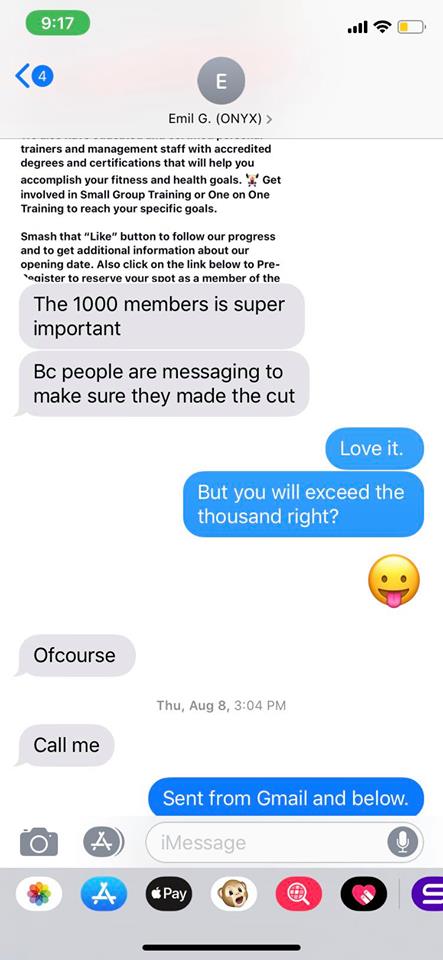 "He's deliberately taken advantage of everyone and everything around him"
Nothing is worse than doing what Emil Gamidov has done.  He's deliberately taken advantage of everyone and everything around him.  From members, to family to friends on down.

ONYX = FAILURE & FRAUD?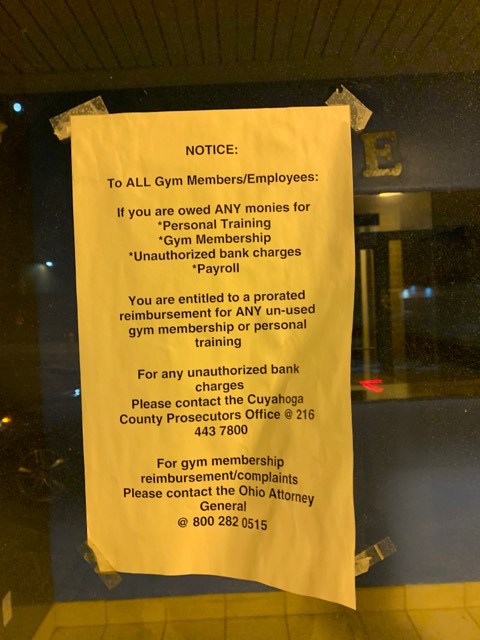 ONYX Health Club 24/7 started off as a personal training company owned and operated by Emil Gamidov and his partner Dwight Chillious.  The company was called "ONYX Fitness Co." and the two offered personal training services inside of existing gym's that failed to provide personal training packages to their clients.  ONYX Fitness Co., would pay the owner of the gym a nominal monthly fee (rent, generally between $600-$800 per month) and in return Emil & Dwight would be able to market their personal training services to the entirety of the clubs members.
Approximately a year after the two successfully embarked on their personal training adventure, they decided to take things to the next level.  Their first club, ONYX Health Club 24/7 opened in Strongsville located at 19832 W 130th St.  This club opened in 2017 and only lasted a short duration and today the sign above hangs on the window from one of the ONYX partner's operating the gym afterwards unlawfully.
Strongsville isn't the only ONYX Health Club 24/7 or ONYX Fit Co. related company to have gone out of business.  In fact, there was another club located in Willoughby Hills that also went out of business.  That's two ONYX Health Club's that wen't out of business in 1 year.  What changed?  Emil Gamidov ousted his partner, pocketed 100% of the cash and began partaking in his shady business endeavors to the maximum.

WHO RUNS THE CLUBS?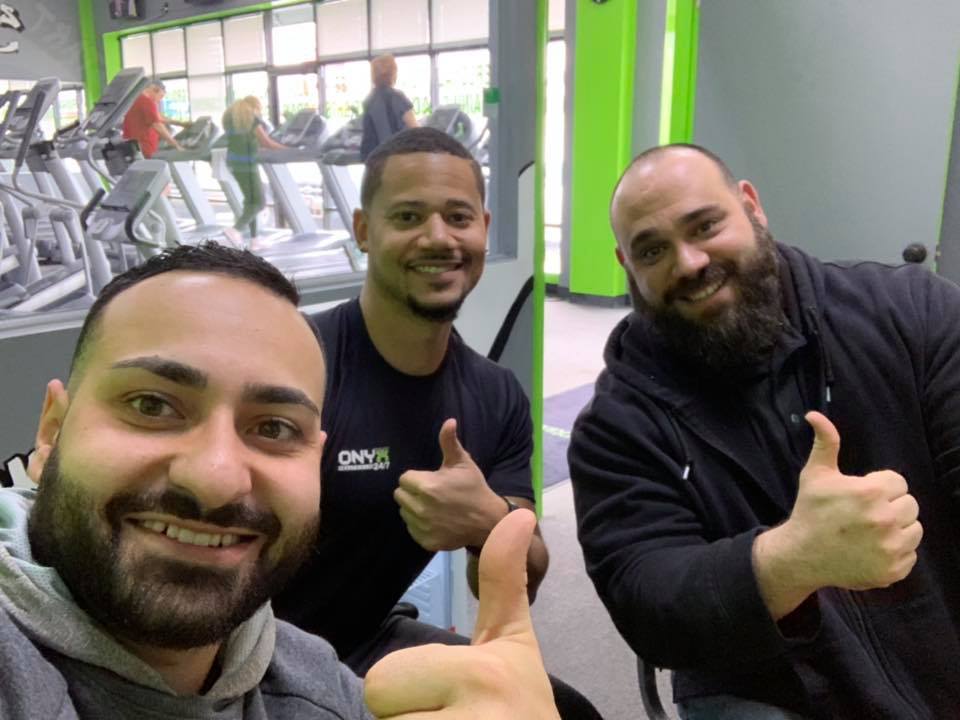 Rick Freeman (middle) was the General Manager of ONYX Health Club 24/7 Parma and Mentor.  The moment he asked Emil Gamidov for his promised pay raise, he was sent back to Mentor (demoted) and ultimately left the company.
Bill Darlington (right) was out of the fitness industry for years because he embezzled ten's of thousands of dollars from each and every club he worked at.  Mr. Gamidov knew this and promoted him to GM of his Parma location where Darlington began stealing from him.  Bill Darlington is still employed by the company and is currently working at the Wadsworth ONYX Health Club 24/7.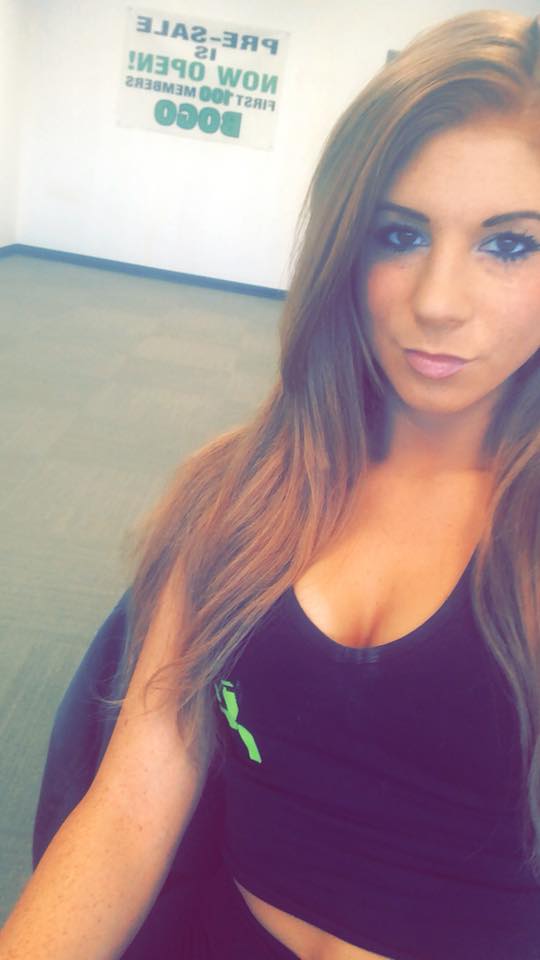 Chelsea M. (as mentioned above) was the General Manager of the Mentor ONYX Health Club 24/7 and has starred in many pornographic films (nothing wrong with that) but was incarcerated just months prior to her position as GM of the club for excessive meth possession and guns.
Other staff members have come and gone, many of which have had serious criminal histories, sexual harassment allegations and more!

WHO RUNS THE WEBSITES?
ONYX Health Club 24/7's initial web designer is currently in prison for distribution of drugs.  The next web designer was a Sex Offender who served time for promotion of prostitution and his most recent choice of a web-designer is a man named Richard Pacheco and well, let's just say, pictures are worth a thousand words…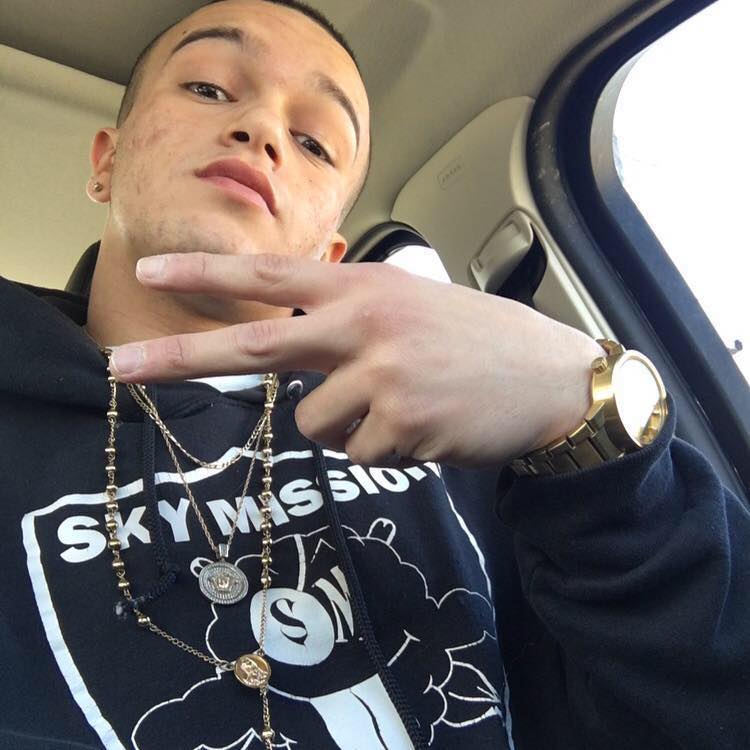 Emil Gamidov Exposed
Emil Gamidov is the definition of a narcissist.  One who will stop at nothing to achieve his wants, needs & desires.   Whether it be securing equipment loans through fraud, defrauding his members, hiring convicts and ex-felons that have embezzled hundreds of thousands from local gym's of the past, to dangling incentives, promises to trainers and general managers, Emil Gamidov has done it all.  He's been sued.  He's done build-outs without city approval (North Olmsted, Northfield).  He's had contractors do electric work without permits (Parma).  He's opened clubs without city approval – North Olmsted.  He false advertises to the extreme, offering huge incentive discounts to the first 100 members in most cases, while always exceeding those quota's.  He promises his General Managers that they can be part owners of their respective ONYX Health Club 24/7 – only to remove them from their posts, demote them and or terminate them entirely so he doesn't have to follow through on his promises.  He's robbed business owners, landlords, contractors, general contractors, web-designers, so on and so forth.
PETTY FACT:  Emil Gamidov even robbed someone on a $100 purchase of his own ONYX Memorabilia and never shipped the clothing or refunded the individual!
Emil Gamidov is notoriously known for going to great lengths in an effort to hide his every move, court filings and even this very publication.  He has threatened individuals with assault weapons (a personally registered gun housed at his home), threatened them legally, threatened them personally and gone as far in many cases to make payouts in order to silence those who had the courage to speak out.  The purpose of his threats is to continue operating in the same pattern, without regard and without any obstacles in his way.  To continue to accrue immense profits at his members expense, his contractors expense, the landlords expense, all in an effort to consume another gym, fraudulently bill the members and hopefully sell another club in the near future (or begin franchising/licensing opportunities).
ROBBING CONTRACTORS
In one such instance Emil Gamidov defrauded a General Contractor on upwards of $20,000.  The contractor secured electricians, painters and demolition workers for both Parma and North Olmsted locales.   The electrician in that case who had started the work, also didn't receive their full compensation.  The painter who painted Parma, also didn't receive their full compensation and capped their hours.  The demolition crew who did the build-out for Parma and North Olmsted also were severely defrauded in their bid for the job by Emil Gamidov.
BUILD-OUT MONEY SCAM
One of Emil Gamidov's biggest tools to increase his wealth and spending power is his build-out money scam.  This is where he approaches a landlord with earnest interest in signing a long-term lease for their property to open a new ONYX Health Club 24/7.  There's always one catch though, the facility isn't fitted for a health club, and so therefore renovations are required.  Those renovations are then paid for (in most cases) by the landlord, because after-all, it's an investment into their property.
Emil will secure or attempt to secure $30,000-$100,000 in most cases for demolition work, painting, etc.  In return he will then hire low cost contractors (Parma's entire demo team was paid $500/week, $5,000 total) from electricians to painters and demolition crews and pocket any of the remaining cash.

NEGATIVE GYM REVIEWS
The screenshots of the reviews found below were taken on 12/24/2019 (to certify date/age time frames).  It should be noted that the majority of reviews found on ONYX Health Club 24/7 websites are positive.  This is largely due to the fact that Mr. Gamidov urges all of his friends, followers and employees to leave positive reviews (see the screenshot below).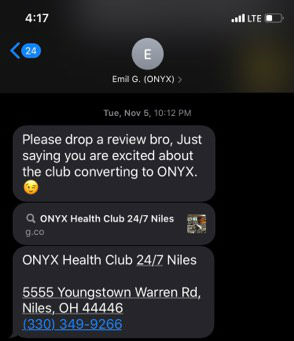 In any case, these negative gym reviews are very specific and match the pattern of corrupt behavior that has become the norm for ONYX Health Club 24/7 and Emil Gamidov in accruing necessary income to establish another location and continue gray area take-overs of local area gym's.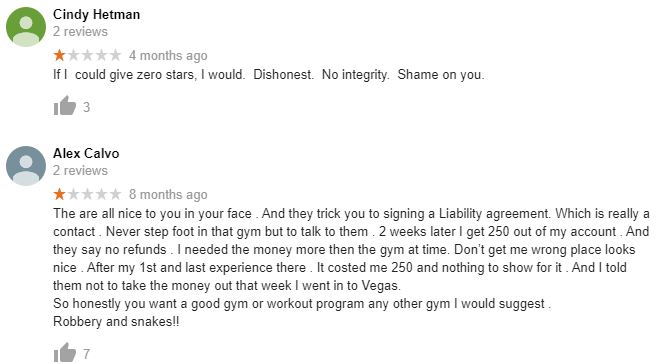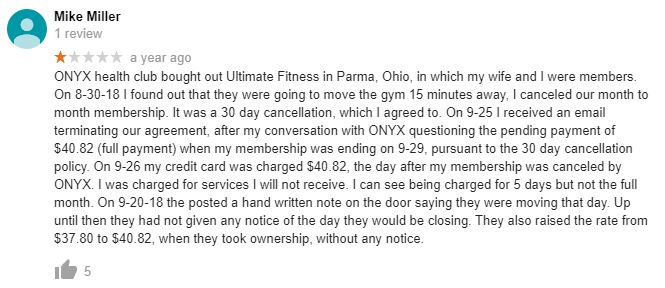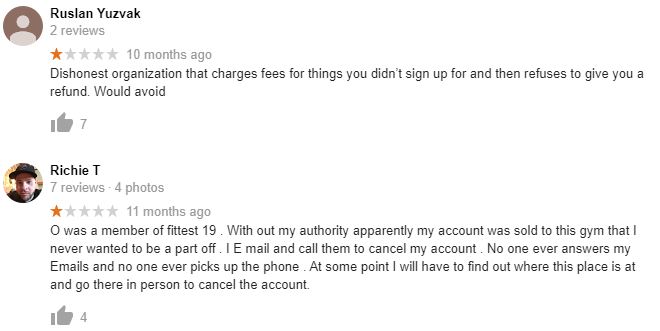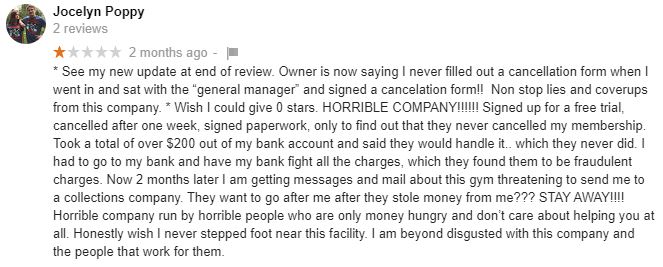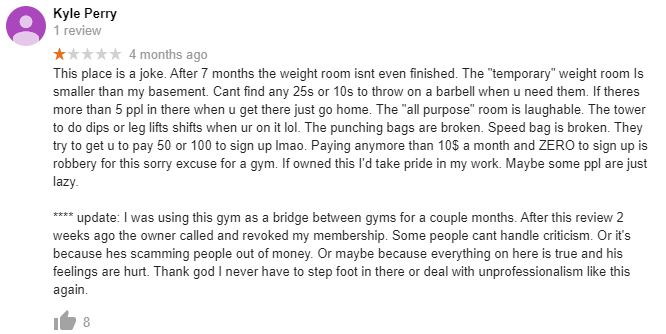 ADDITIONAL COMPLAINTS
ONYX FITNESS CO. BBB Complaints (11):  https://www.bbb.org/us/oh/parma/profile/fitness-center/onyx-fitness-co-0312-92021072/complaints
ONYX HEALTH CLUB 24/7 BBB COMPLAINTS (1):  https://www.bbb.org/us/oh/mentor/profile/health-club/onyx-health-club-247-0272-235819936

LEGAL WOES
Outside of the high speed pursuit with an original felony indictment that took place on a crotch rocket that took place on Cleveland's East side that Mr. Gamidov expunged.  He does have continual legal issues out of the Cuyahoga County Courthouse in the form of civil actions being raised against him.  Those cases and their information can be found below in detail.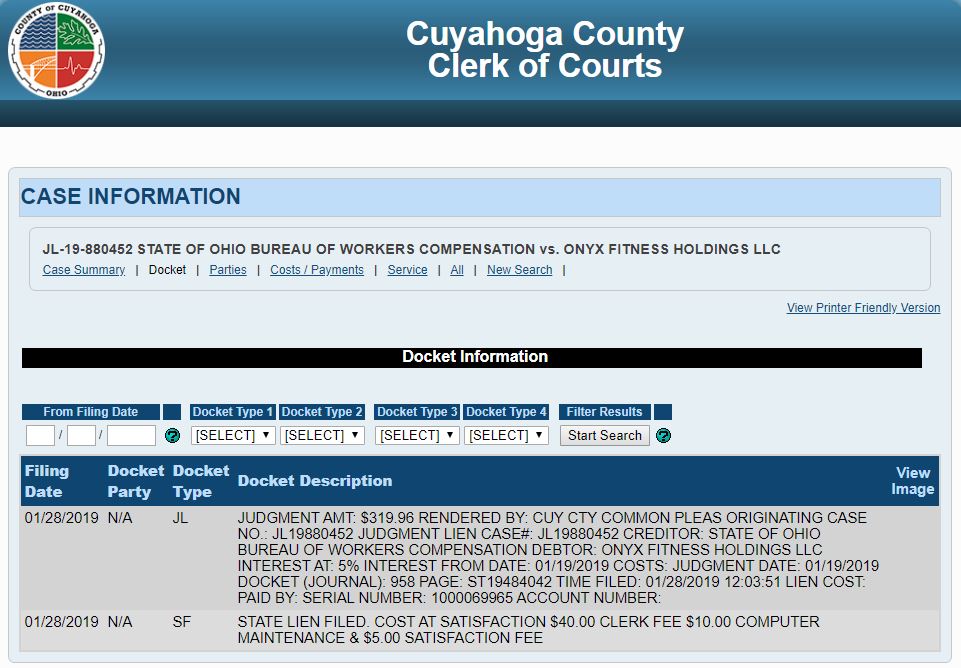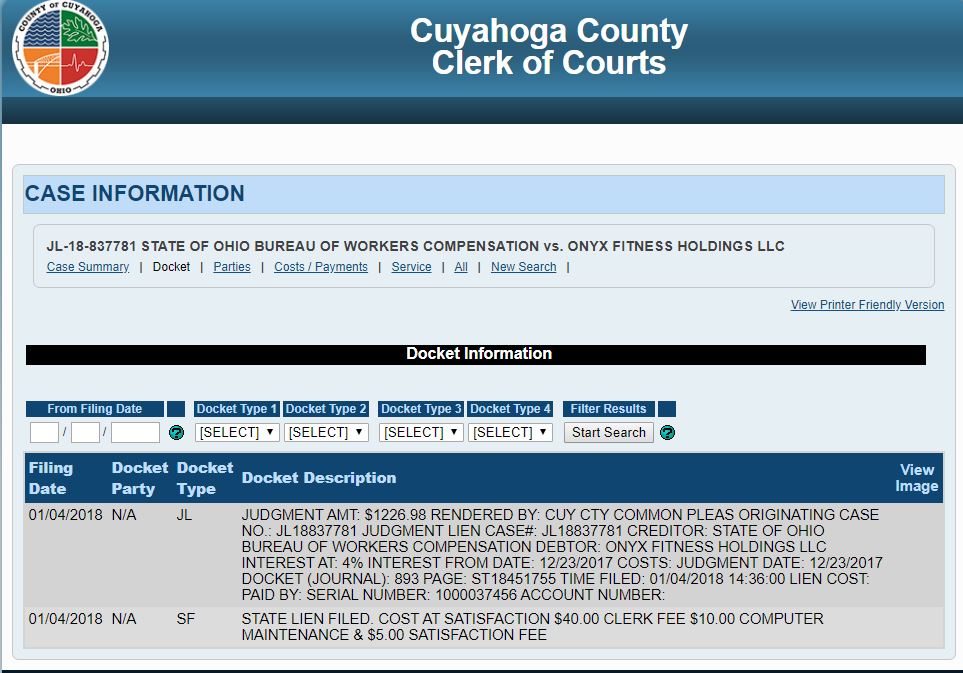 BUSINESS INFORMATION
Company Name:  ONYX Health Club 24/7
Corporate Address:  12900 Snow Rd, Parma, OH 44130
Club Locations: North Olmsted, Northfield, Fairview Park, Parma, Niles, Wadsworth & Mentor.
Website Address:  https://onyxhealthclub.com
Corporate Phone Number: (216) 801-4241
Individual Club Phone Numbers:

PERSONAL INFORMATION
LEGAL ADVISORY:  This information is for educational purposes only.  The information provided is also found in the public domain, ie; this is public information and was gathered through Google searches and other mediums.  Any use of this information to perpetrate any crime or violation of law is strictly prohibited.  Use of this information should be strictly used for legal and lawful purposes (ie; lawsuits, address confirmations, etc).

WATCH THE CON-MAN
The video located below is on Emil Gamidov's own YouTube channel.  This video was taken approximately 3 1/2 years ago.  The purpose?  Emil was showing off his stellar selling capabilities about how he could sell anyone anything.  Even water…

WHOSE THE LENDERS?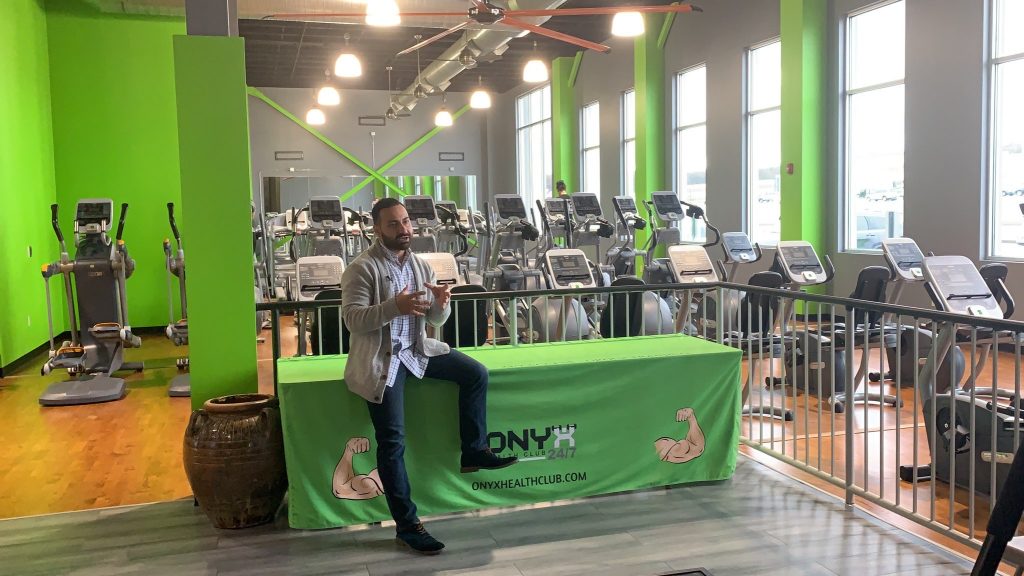 Information contained herein is related to lenders and vendors that provide the club with equipment.  Some of which was done so illegally, unlawfully and with forged documentation.
Secured Party/Lender:  NAVITAS CREDIT CORP.
Vendor:  Commercial Fitness Solutions INC.
Agreement: #4059*****
Amount Financed:  $10,000.00 (Parma)

Et, al. other clubs, in excess of $100,000 owed.
LEASING CONTACT
Name:  Jessica Buckels
Position:  Lease Administrator
Company:  USA Management & Development, INC.
Phone:  440-942-8770 x240
Email:  jessica@usamgt.com
Per numerous sources, ONYX Health Club 24/7 and Emil Gamidov have been late numerous months, manipulated dates on checks, used his daughters illness as a reason in one instance for being delayed in rental payments.

CHRISTMAS PAST
This photo demonstrates the turn-style table type of atmosphere found at ONYX Health Club 24/7.  Only one person remains from the core of ONYX Health Club 24/7 just a year before.  At this get together and since, the club has expanded and grown in an immense fashion.  Extreme profits for one person and one person only, Emil Gamidov.  Whilst others whom were promised promotions, CTO and CFO positions were simply discarded after Mr. Gamidov could consume every ounce of time, energy, connection and passion from them.
ONYX Health Club 24/7 is truly ran by a maniac.  One who will take advantage of it's members, it's employee's and play musical chairs with all those involved.
It should be noted that Gamidov elected to not hand out a single bonus, lottery ticket or so much as a Christmas card to a single one of his employee's last year.  In fact, he was the only one to receive a Christmas card & lottery ticket by one of his employees.

REPORT / HELP INFO

Have you been scammed by Emil Gamidov or ONYX Health Club 24/7? Consumers who want to file a complaint should contact the FTC and file a complaint at https://www.ftccomplaintassistant.gov.
FUN FACT:  Emil Gamidov has close ties to the owner of Red Fitness, David Barna (think Northfield, think Strongsville), who also operated in much smaller illegal and unlawful fashions than that of Mr. Gamidov.  The Attorney General also came after Barna and Red Fitness for far far less…  Attorney General DeWine Seeks Consumer Restitution.

The Bottom Line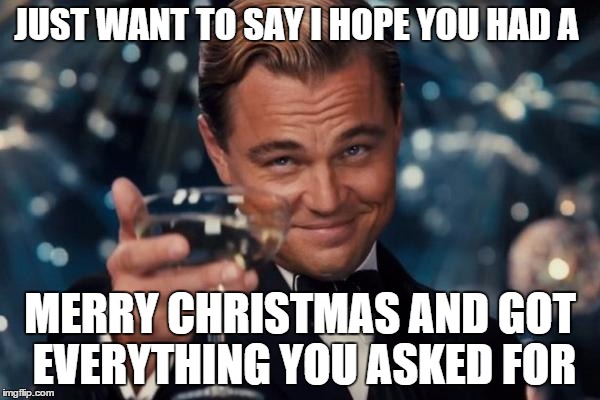 SCUMBAGGED Tip:  If it looks like a duck, swims like a duck, and quacks like a duck, then it probably is a duck…  Emil Gamidov has surrounded himself for decades amongst thieves, convicts, manipulators, liars, cheaters and some of the fitness industry's most cutthroat, violent & manipulative individuals.  He learned from them, applied some of the worst traits that he gathered from them, dolled them up and now operates at the helm of his company solely with no one to hold him accountable.  If you're a member or an interested business partner, you've been warned…  He's a narcissistic con-man with only one thing in mind, money, retirement and himself – at ANY cost.  Maybe he should care about his "business & family" and this article wouldn't have ever happened…