ONYX Health Club 24/7 members have been referred to as "Crackheads" by the companies founder & owner, Emil Gamidov.  In the ONYX Health Club 24/7 group company chat, Gamidov can be seen referring to "getting money" and urging his staff to make as much as they can so they can "show him the money".  At one point he posted a quote that stated "I never heard a crackhead say "I ain't got no $ so I ain't smoking today" they always find a way so u gone let a crackhead out hustle u today?".  Where he then followed up with his own words saying "Don't let the crackhead out hustle you".  This was then followed by additional comments from the ONYX Health Club 24/7 owner within the group message stating "Who is popping off deals today?? None of this shit is free" followed by a meme from the 'Wolf of Wall Street' that says "SHOW ME THE MONEY!".
Additional screenshots and videos have been collected, all of which demonstrate the behind the scenes approach guided by none other than Emil Gamidov, the owner of ONYX Health Club 24/7.  He has been recorded detailing how to manipulate members into purchasing memberships, guiding staff on how to accrue additional revenue in manipulative manners and throughout it all he doesn't discuss what can be done to ensure that you, the member is getting the most out of the club and your membership.  In fact, the vast majority (95%+) of the thousands of messages contained within the ONYX Society (team/company group chat) consists of ways to maximize earnings, hit goals and find ways to maximize every single penny out of each and every one of the members and or potential clients (ie; crackheads) that they have at their disposal.
Readers Note:  ONYX Health Club 24/7 of Northfield is entirely exempt from the founder & owner Emil Gamidov and DOES NOT treat it's members like crackheads.  The Northfield club is owned by a separate individual who actually runs the club with care and compassion for his members.  The clubs that are specifically under Gamidov control and are of focal point in this article are Parma, Niles, Wadsworth, North Olmsted, Mentor & Fairview Park.
The above video shows a myriad of screenshots where the owner is disturbingly discussing how his own members are essentially viewed as crackheads.  This is coming from a man who has robbed or defrauded past contractors, staff members & vendors.  The owner of the company has legitimately lied and conned his way into the position that he is in today with every single individual that is closest to him.   For example, there is not a SINGLE staff member that has been with ONYX Health Club 24/7 for more than a year (outside of ONYX Health Club 24/7 of Northfield).
Crackhead Mentality:  Did you know that when a new club open's that ONYX Health Club 24/7 will declare that the equipment is new or of newer make and model?  In all reality, Emil Gamidov simply wraps the machines and has them painted to make them look like newer models.  This is all part of his deceptive & manipulative approach.  When in truth the equipment is highly outdated – in many cases and if it were not for the fresh paint and the custom ONYX wrap, it would show some of the industry's oldest fucking equipment known to man for any gym operating in the area (take a really close look at some of the equipment at Parma, North Olmsted, Mentor or any other club the next time you visit, you'll see).

Gamidov's Kompromat\
COBRA Says:  Nothing more than a Greedy Russian (G-Group for those who know)…
There is a third and final article dubbed "Gamidov's Kompromat:  ONYX Health Club 24/7 Exposed".  This article will be utilized for any current or future investigations by any local law enforcement and or aid and assist any individuals whom are currently or potentially interested in civil action against ONYX Health Club 24/7 and Emil Gamidov.  The article will reveal 10 detrimental personal emails, 6 videos of Emil Gamidov himself and dozens of conversations where he, the owner, incriminates himself via fraudulent activity, discusses manipulative behavior related to personal training members, membership appreciation fees, etc..  The Kompromat verbiage will be used in relation to the falsified company wide posts (see screenshot below 'The Bottom Line') that were dispatched as a result of the original article that broke.  This statement is false and is also known as Kompromat in Russian terms.  Essentially, falsified and forged information in the form of disinformation.  Not a single truth was uttered in the statement, and the statement was only made because of the guilt and truth that he is attempting to cover up.  As a result, the third and final article will also detail the entirety of his current staff as well as an individualized breakdown of each club, the clubs that were nearby that he purchased member-bases from and the multitude of refused cancellations and delayed refunds that ensued.  In addition to the aforementioned, additional audio conversation and specific incriminating and highly manipulative processes will be revealed as well as core processes related to this specific gym.
LEGAL ADVISORY:  In this case, the word 'Kompromat' which will be used in the trifecta article (forthcoming) is used based solely on the Russian origin of "Gamidov's" last name and has absolutely nothing to do with extortion or blackmail related definitions that sometimes can be attributed to the term.  It is point blank 'compromising material' that pertains to a Russian business owner in the United States, specifically Northeast Ohio, that is legitimately taking advantage of nearly every single city, partner and member in some way shape or form that crosses his path.

THE BOTTOM LINE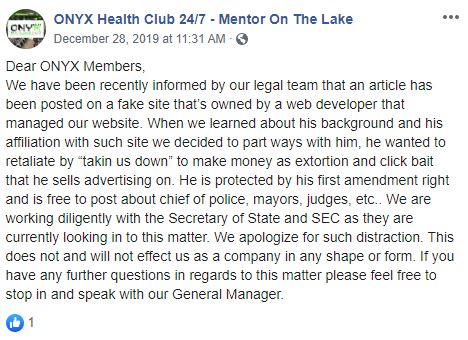 DID YOU KNOW?:  Emil Gamidov issued threats, attempted to cause potential physical harm, warned, cried, whined and was extremely determined to prevent the first article from remaining in it's place and any future articles from turning into fruition.
SCUMBAGGED.COM'S RESPONSE:  Nothing he says or does will prevent these articles from staying or coming to the light of day.  He cannot buy us or silence us in any way.  He can take his Bentley's, Porsche's, BMW's, Yacht's and greedy little Russian ass back to mother fucking Toshiba where he sold printers like a little bitch for years before he decided to scam people.   He has no loyalty, no integrity, no honesty, no respect and is not fit for business in the great State of Ohio.  Scumbagged.com will continue to work with local, state & federal authorities to bring individuals just like him to justice.