Patricia Wright of Lorain, Ohio is by far one of the biggest scumbags submitted to date.  She resides in the city of Lorain, which is in Lorain County, Ohio.  The 57 year old woman (who is a mother of 3 and grandmother of 5) is without a doubt one the most disgusting examples of a mother (or person in general) that society has to offer.
Patricia, also known as Trish is a well known prostitute, one who uses the dating app POF (Plenty of Fish) to attract new clients.  Through this dating app she meets upwards of 2 or 3 men a week who she brings to her 81 year old mothers apartment off of Georgia Ave. in Lorain.  Trish does so while there are upwards of 5 grandchildren in the home.  One of her daughters whom Trish babysits for has raised numerous concerns regarding the strange men that occupy and the events that transpire within her home while watching her son.
In addition to Trish's prostitution (where she self drives herself to Mentor, Lorain or Brookpark) Trish is a drug addict.  One who smokes weed, pops pills and abuses powder and crack cocaine on a daily basis.  Her drug habit is funded through her various sugar daddies, abusing cash assistance & child support that is intended for a child she temporarily has custody of and sadly, by taking advantage of her 81 year old mother.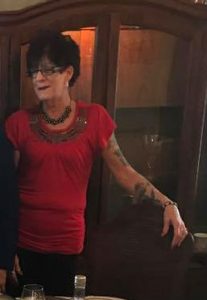 Trish is a child abuser, most recently gouging her grandsons face with her nails, kicking that same grand child in the stomach across the floor & another into a wall at her previous residence (also located off of Georgia Ave. in Lorain).  Her child abuse isn't just behind closed doors, but has occurred in public view.  She has been seen on multiple occasions roughing up her grandchildren at the Horizon Learning Center for kids off of Colorado Ave.  These instances have all been documented by various teachers and staff.
Article Update / Recent Submission:  To make matters worse, Trish is the sole guardian of one of her daughters grandchildren.  The guardianship transpired when that daughter became addicted to heroin.  Since that time her daughter has gotten clean and sober and been involved in her child's life for more than a 10 month period, seeing her son upwards of 12-15 days per month without supervision & 3 day stays at her residence.  That daughter wanted her son for Christmas this year and when Trish was asked, she blew up exclaiming "I'll tear down the kids tree and take back all their fucking gifts".  Since that argument her youngest daughter has not been allowed to so much speak to her own son.  That matter rests in the courts hands come March of 2018 – where surely no competent Judge would allow Patricia Wright to maintain custody of any child, let alone a pet (she's had issues with animals, we will get to that shortly).
Throwing A Temper Over Christmas (2017)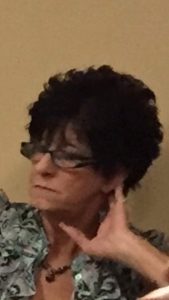 Bed Bugs & Lice:  In the Summer of 2017 while residing off of Colorado Ave (also at her 81 year old mothers home), Trish had a bed-bug infestation that lasted more than 3 months – while at the same time all 5 grandchildren had lice that lasted for almost a month.
COBRA Says:  This degenerate scumbag is a waste of space.  She's nothing more than a small pathetic little child who has yet to grow up.  One who has made mistake after mistake after mistake, one who has nothing, who will have nothing and who will live the rest of her short life out in a miserable and lonely fashion.  God only knows what would she would do if she didn't have her 81 year old mother.
Abusing The Sick:  When Trish's oldest daughter was released from the hospital in June of 2017 for a major heart attack and had to receive quad bypass surgery, Trish got into her daughters face, screaming and pushing her because her daughter was kicking her out of her house.  The reason Trish was being kicked out?  She had been living in her daughters home rent free & without a job for a period of 2 years time.  The freeloading had finally come to an end when the daughter couldn't work 80 hours a week anymore to support her mother.
"Trish is going to fucking beat the shit out of him if he does it again".
Abusing Her Grandchildren:  Trish is extremely pre-occupied with herself. So much so in fact that she doesn't bathe or wash her grandchildren sometimes going on 3 or 4 days at a time.  She is extremely verbally abusive and has been recorded screaming at them at the top of her lungs.  She has smacked her grandsons in the face, gouging ones face and has been seen kicking them in their stomach against the walls.  She simply gives her grandkids a tablet or a tv and spends zero time with them, while she is getting high or having a rendezvous in the other rooms with a local area john.  When the kids don't listen she beats them, hits them or verbally abuses them screaming in third person "Trish is going to beat the shit out of him if he does it again".
ABUSE TIP LINE:  24/7 National Abuse Hotline at 1-800-422-4453 or Lorain County Children Services at 440-329-5340.
Aiding & Abetting A Fugitive:  Patricia Wright also harbored a fugitive while residing off of Georgia Ave & Colorado Ave. in Lorain Ohio.  She harbored this fugitive who was on Akron's Most Wanted list for a 2 year period.  During which time she helped him evade authorities on more than two separate occasions.  That fugitive has since been apprehended and is serving a 2 year prison term for aggravated robbery charges stemming from a home invasion that took place in 2015.
Not So Fun Fact:  There are 2 video recordings, 1 audio recording & 17 screenshots detailing the allegations of abuse against children and pertaining to her drug use and violent behavior.
A Late Night Crack Run (2015)
Taking Advantage of the Elderly:  Trish has been residing with her mommy, an 81 year old hard working Lorain County resident who hasn't missed work more than 3 days in the past 30 years.  Her mother who is a driving instructor out of Avon Ohio pays all of the bills, utilities and rent.  All the while Trish smokes, snorts & remains jobless.  Not having worked for more than 5 years.
Neglect of Pets & Animals:  While adopting a stray dog, Trish let the elder dog go without getting vaccinations or a steady supply of dog food.  The dog died from malnutrition and not receiving his heart worm medication in the Summer of 2017.  Recently they had 3 cats, all of which use the same litter box – with litter that hadn't been changed in approximately one month.  Those cats have since been given away.
Financial Difficulties:  Due to her freeloading capabilities she has put her entire family into financial straights.  Most specifically, her 81 year old mother.  Evidence has been submitted that shows the family scrounges up change for toilet paper and other household goods, gasoline and the bare necessities.

Evidence Gallery (2017)

Images and videos of the children have been removed to abide under Ohio law – but will be used in the court of law, if required to do so.  The following screenshots shed light into the truth behind her drug use, bed bugs, the anger towards her own mother/daughter/grandchildren and her financial difficulties.
The Reality of Patricia (Trish) Wright
She is a 57 year old user & freeloader.
She lives with her 81 year old mother who has to work to support her daughter.
She is a prostitute who seeks out her next high or tank of gasoline.
She babysits upwards of 5 kids at a time, but neglects them entirely.  While physically, verbally & mentally abusing them.
She doesn't have a job.  She doesn't own a car.  She doesn't have any savings.  She doesn't have car insurance (for the car that she transports children around in).
She uses the system, she collects food stamps and financial aid.
She is a drug addict who smokes weed, who snorts cocaine and pops illegally purchased prescription pills.
She has been married 4 separate times – and is currently separated from her previous marriage and makes statements such as "I can't wait for him to die from his heart condition already so I can collect his pension".
She has had bed recent bugs & lice infestation from her uncleanliness.
She sleeps on an air mattress.
She harbors fugitives (Robert Lee Bledsoe).
She allowed a convicted sex offender (Richard James Humphrey) to be alone with her grandson on numerous occasions.
The Bottom Line:  Patricia Wright is in no condition to babysit children or to have the custody of another.  She has continuously moved residences on average of once per 6 months, has been seen both in private and public physically, verbally and mentally abusing children.  She's a prostitute, a drug addict & has no employment.  There are so many allegations raised that even if one were true, there is a serious issue at hand here.
SCUMBAGGED TIP:  If you or anyone comes across the path of Patricia Wright, it is best to avoid.  She is a con-artist and manipulator.  She will steal from you, she will smile in your face and stab you in the back.  She has a serious mental debilitation, one that has prevented her from understanding the reality of her life, one that has gone nowhere, one that has dragged her mother and the rest of her family down, and one that will only continue to spiral into oblivion.
REPORTING THE ABUSE:  Individuals concerned with Patricia Wright's alleged child abuse, drug use and her being around children or having custody of a child are urged to contact the 24/7 National Abuse Hotline at 1-800-422-4453 or Lorain County Children Services at 440-329-5340.