The city of Parma and it's residents have a tough road ahead of them, literally.  Home values have declined by more than 20% since 2007, businesses are leaving, stores are closing, drugs & crime are running rampant & the cities police officers are harassing & gang stalking their motorists.
The individuals who could make things better, who should be focused on cleaning up the city & making Parma a safer & better place to live, simply aren't.  The Parma Police are too busy and primarily focused on what is known as gang stalking.  In this article, you will see first hand as Parma Police Sergeant John Porec deliberately harasses & gang stalks Matt Osbourne, all of which was caught on video.
On February 20, 2018, Matt Osbourne was on the job & out searching for vehicles that needed to be repossessed.  The Vendetta Towing employee figured that since it was 70 degrees (a rarity in Ohio for February) that it would be the perfect night to take his motorcycle out to survey the area.  That was until he had noticed that his tags had fallen off his bike when stopping at a local BP gas station.  Mr. Osbourne was in the process of having his vehicle picked up when the Parma Police pulled onto the gas stations private property.
Readers Note:  When you've finished reading this article, be sure to check out these other related articles from the Ohio area:  Mike Freeman, Corrupt Chief of Police (North Ridgeville), Corruption In North Ridgeville, The Cops & The Mayor, Cuyahoga County Jail Imploding:  Internal Documents Leaked, Sheriff Clifford Pinkney Exposed: Racism, Favoritism & Overtime (Cuyahoga County) & Sheffield Lake Police Chief Exposed:  Police Will Draw Guns During Minor Traffic Stops.
Osbourne wasn't driving the motorcycle when the cops stopped him, he was standing outside of BP and that's when everything turned ugly.  He was placed in the back of a police cruiser and given a citation.  Repeatedly, Mr. Osbourne asked the Parma Police Sergeant John Porec why they had stopped him, yet, no answer was given.  In the video below, you can see Matt Osbourne asking the officer – no less than ten times –  "why did you stop me"?.
After the video ends, Mr. Osbourne is then arrested for Obstructing Official Business by Sergeant John Porec for gathering his belongings from his motorcycle.  Even though the Parma Police Sergeant had advised him that he could take his things before his motorcycle was towed.  After he was released from Parma City jail at 4:30am, Mr. Osbourne went to a local Subway where the same officers from the altercation were also eating.  Osbourne was with his friend Steven Frameli who had picked him up from the jail.  The Parma police waited for them outside and then Sergeant John Porec followed the two for approximately one minute and then pulled them over.  Not for speeding, not for left of center, for nothing more than pure harassment.
Fun Fact:  In 2016, Sergeant John Porec was reimbursed $455.00 for meals while on the job.  That's the equivalent to 91 $5 foot long sub's from Subway.   Must be nice…
Matt Osbourne is filing a civil suit against the City of Parma and Sergeant John Porec for various rights and ethics violations that transpired that evening.  He also isn't the first person to sue the Parma Police Department.   On January 7th, 2017, the Parma Police Department was forced to pay $170,000 in an excessive use of force lawsuit. and on October 11th, 2017, a Parma man filed a Federal Lawsuit against the Parma Police Department for violating his first amendment rights, just naming a few.
Matt Osbourne's Statement
ERRATIC Says:  Hey Matt, we just spoke with our attorney's and a local area bondsman – we're fully prepared.  Wouldn't doubt if the snowflakes at the Parma Police Department try to issue felony warrants on us for this article after seeing what they did to you.  Fucking scumbags… 
"they arrested my driver because they couldn't come up with any answers"
"By the way they arrested my driver because they couldn't come up with any answers to the questions that were asked!! Once my driver was released they went to get a sandwich down the street and all the police were there eating subway!! 4:30am the drivers get in their car and leave then the hillbilly police followed them from that location and pulled them over and gave two tickets !' Is this not harassment?" – Owner of Vendetta Towing, Michelle St. John Belhouane.
Not So Fun Fact:  Parma has almost double the state average of crimes per sq. mile. With 61 crimes taking place compared to the entire state of Ohio's 33.

GoFundMe Campaign
A GoFundMe has been started by Matthew Osbourne in an effort to pay his legal bills and to further expedite the legal action against the Parma Police Department.  Interested individuals can donate by visiting the following link:  https://www.gofundme.com/parma-police-lawsuit-stop-harassmen

Parma Police Complaints
Many Parma residents and local area citizen's shared their similar situations and run-ins with the Parma Police Department on Facebook.  Those complaints can be found below.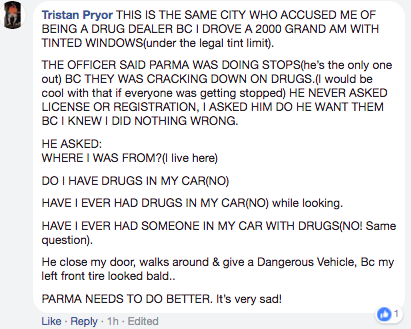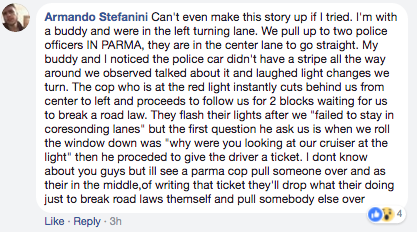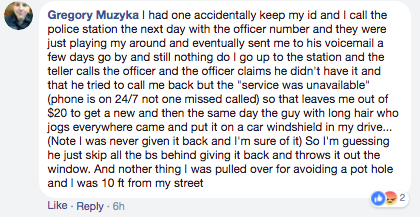 The Bottom Line:  While Parma residents are on their way to or from work, or simply running to the store, they aren't just dodging pot holes, but also the Parma Police Department.  The Parma Police, who have 93 full time officers, blatantly harass their motorists.  The motto is "protect and serve" not "stalk and harass".
SCUMBAGGED Tip:  Anyone driving through Parma, turn your cameras on and have them on standby.  You have a high likelihood of being pulled over or catching an event that needs to be documented.  If you have a story to share, you can submit an article here.
Resources:
http://www.cityofparma-oh.gov/
https://www.neighborhoodscout.com/oh/parma/crime
http://www.cleveland.com/court-justice/index.ssf/2017/01/parma_to_pay_resident_170000_t_1.html
http://www.wkyc.com/article/news/local/cuyahoga-county/parma-man-sues-city-for-arresting-him-over-facebook-page/482604573