Update:  Catelyn is currently in Lorain County Jail for theft charges.  She also illegally conveyed 5 grams of heroin into the facility unbeknownst to the corrections officers. 
Hey Scumbagged this girl here goes by the name of Catie Fawn, her real name though is Catelynne Sagges.  She uses a fake name online and with people she dabbles with in an effort to conceal her true identity, and for good reason.  She's originally from Elyria, Ohio, but has been known to stay anywhere and everywhere all over the Lorain County area.  Bouncing from one motel to the next and one trap house to another.  Mrs. Fawn gets around, especially on Backpage and in all the wrong ways.
For starters, this girls record is quite lengthy & she's managed to snitch her way out of jail time in many cases.  She's stolen from every single person she's gotten close to and has even gone as far as to use others identities to evade criminal charges.  She also has an active warrant for her arrest out of Rocky River.
Catelynne (Catie Fawn) Sagges grew up off of Middle Ave. in Elyria, Ohio.  Where at the young age of 15 she was pretending to be much older than she really was, posing as a 21 year old bartender at an all women's gay bar and publishing nude photos to her MySpace account. To uphold her illusion of being 21 Catie drove a vehicle at all times, stealing her sisters or mothers cars in order to get around and she had a fake i.d. that allowed her to purchase alcohol and cigarettes.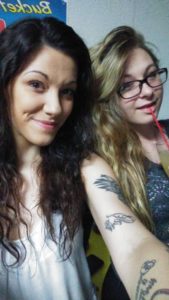 She coerced and manipulated many grown men into believing she was of legal age, and as a result there's quite a few individuals whom have landed on the States Sex Offender registry.  Tssk. Tssk. 
Eventually, Catie's reckless behavior started catching up with her and soon soon enough her criminal charges began to mount.  This is when the Elyria PD and other arresting jurisdictions began using Ms. Sagges as an informant, on numerous occasions and various sting operations.  The police in return were able to net as many arrests as they could and Catie was able to keep herself from doing lengthy jail sentences (in most cases).
Her willingness to comply with the authorities has in itself enabled her to continue her destructive path across the Lorain County area and it's residents.  When running a search on the Elyria and Rocky River Municipal Court websites it's fairly evident that the girl has been on a crime spree pretty dedicatedly over the past 5 years.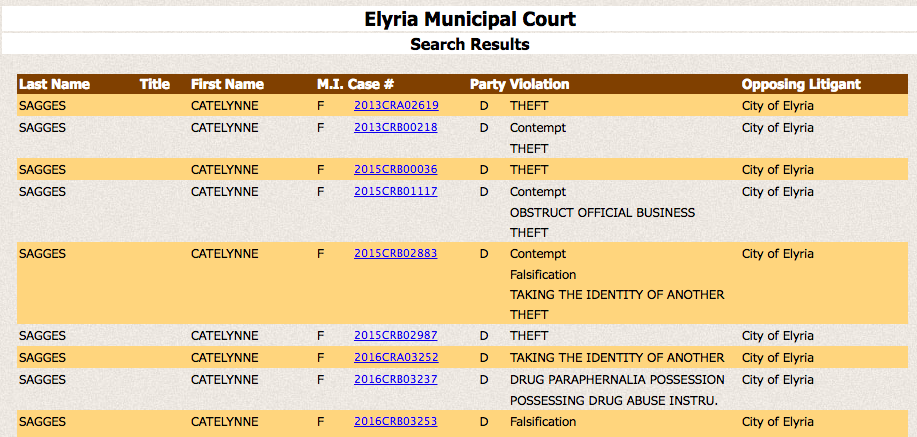 Catie, like many other girls in the area surrounds herself around one of the areas most vicious pimps:  Byron J. Larrosa (more here: https://scumbagged.com/2017/07/12/byron-j-larossa/) who has continuously and successfully fed girls like her heroin in an effort to keep them in a position of control. Catie has also been featured on the Lorain Counties Top 50 Rats & Scumbags page on Scumbagged.com.
SCUMBAGGED Tip:  You're a special person, really truly special.  The devious depths of your deceptions have harmed hundreds of people and ruined countless lives.  You should cease being a scumbag immediately!  Our recommendation is you need to check yourself into a rehab, the Wellington Police Department offers 24-72 hour inpatient services to anyone who would like to get help.  Additionally, if you have an active warrant (which you do) they won't arrest you for seeking treatment.  You can call them:(440) 647-2244 or contact them via messenger on their Facebook page: https://www.facebook.com/Wellington-Police-Department-759508177392915/