Update: Sammy is currently in Cuyahoga County Jail facing several felony charges.  
On a late Saturday night in May of 2017, Samantha Fleming aka Sammy received an invitation from a friend to attend a party.  Before her arrival, the destitute prostitute had only one thing on her mind and that was to obtain money.  As the night went on the party winded down and one by one people began to leave or fall asleep.  Everyone, that is, except for Sammy.  Sammy instead was waiting for her moment to strike.
She watched a girl who was at the party closely throughout the night and saw that the girl had expensive jewelry, clothing, a nice car, money and a large social pool.  She became secretly enraged and filled with jealousy.   Sammy made up her mind that night that she was just going to take everything that the girl owned.  That girls name was Victoria Oliver.
When Victoria finally fell asleep, Sammy seized her opportunity.  The first act of her devious plan was to steal her shoes.  She quietly took her own decrepit shoes off and replaced them with Victoria's Nike pair.  Sammy then proceeded to take the sleeping girls car keys, purse, cellphone, jacket, sunglasses and wallet.  It would be a nightmare for Victoria when she would wake up the next morning.
Sammy smiled to herself and then walked out the door.
In the driveway was parked Victoria's black 4-door Pontiac G6 (License #HAP8068).  Sammy took one quick look back at the house, then hopped into the car and drove into oblivion with pretty much everything that Victoria owned.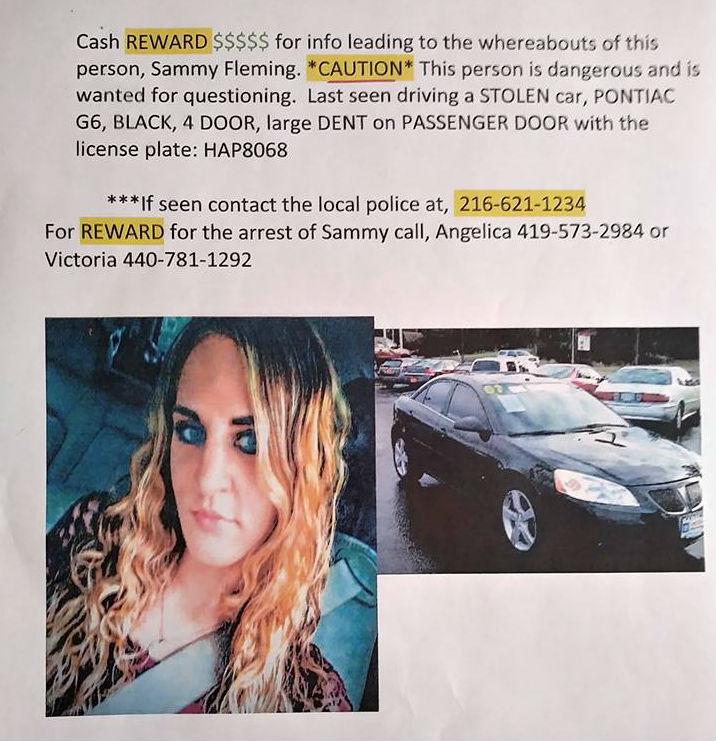 Nobody has seen her since…
In a bizarre twist of events, upon investigating the whereabouts of Sammy Fleming we discovered an eerie pattern embedded within the Cleveland Municipal Courts.  A pattern that could clearly be viewed as enabling her destructive behavior and essentially allowed the events that transpired on May 26th, 2017 to occur.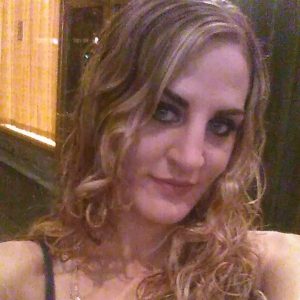 In 2010 (Case #CRB017082) while Sammy was busy working the W. 27th & Lorain Ave. area as a prostitute, she was arrested and charged with solicitation.  The case resulted in a dismissal. 
In 2013 (Case #CRB000189) she was once again working the streets as a hooker, this time in the W. 25th & Lorain Ave. area, where she was arrested for soliciting prostitution and for an attempted manner of corrupt activity.  The case resulted in a dismissal.
In 2015 she was evicted from 1361 W. 114th Street Apt. #1 and was subsequently ordered to pay $2,150 in overdue rent.
Three more cases (#TRD018257, #TRD013996 & #TRD025658) all in 2016 were also dismissed.
There's 12 cases listed on the Municipal Court website, 9 of the 12 resulted in dismissals.  The majority of the 12 cases had multiple charges filed within, yet most of them were nulled.  One prostitution case even stated that as a direct "Administrative Order" that the charges be dropped.


Coincidentally enough the "Administrative Order" came at the same time that prostitution related vice enforcement was ordered to cease immediately in the City of Cleveland. Sammy Fleming was known to work extensively within the heart of Cleveland's infested prostitution zone, where vice detectives actively went undercover, located around the West 27th and Detroit Ave. areas.  We previously ran an article on a vice officer from that exact area that allegedly engaged in sexual activity with prostitutes.  Once you've finished reading this article you can read that article here:  Vicious Vice – Detective John Graves (Cleveland, Ohio)
COBRA Says:  Sammy Fleming will also be featured in our Top 50 Rats & Snitches of Cuyahoga County.  She is without a doubt one of the most profound rats in the Cleveland, Ohio area.  At some point in time the victim is no longer the victim but becomes the perpetrator.  Law enforcement doesn't see it that way, but maybe someday they will.
So Where is Sammy Fleming?
According to public court records her most recent address is listed at 10653 Indian Hollow in Elyria, Ohio.  We've also received information that Sammy frequently stays in the apartments located off of Pearl Rd. & Cecilia Rd. in Old Brooklyn.
She's an active drug addict who uses both heroin and meth, so her daily expenditures are high.  Our best guess is that Sammy is more than likely out there walking the track, online on Backpage or Craigslist and using a stage name.  Her Facebook hasn't shown much activity recently:  https://www.facebook.com/sammy.fleming.37
As of this writing Victoria's car and all of her belongings have yet to be found. 
There is a cash reward being offered leading to her whereabouts and she is currently being sought by the authorities for questioning.  However, anyone who wishes not to involve the police can just submit information anonymously to us on our Report A Scumbag page.
Readers Note:  We'll continue updating this article with any new information we receive and hopefully Victoria Oliver can perhaps one day be re-united with her car.
SCUMBAGGED Tip:  Stay away from this bitch, god only knows what she's capable of.  Sammy if you're reading this (and we're sure you will) just know that every dog has their day and yours will one day come.  You've lived life on the edge for far too long, your feet must be awfully sore from all the miles you've logged walking your ass up and down Lorain Ave.  You need to return the stolen goods, specifically the stolen car, check yourself into a rehab immediately and stop being a scumbag!
Resources: