Hey Scumbagged, this guys name is James Hrdy and he must have a short attention span or just a blatant mental defect.  He's continuously breaking the law and accumulating never ending charges.  Mr. Hrdy has been living his life the hard way, stealing, robbing, burglarizing and taking anything and everything he can all in an effort to support his drug addiction.
On July 24th, 2017, Mr. Hrdy was released from the Richland Correctional Institution where he had been incarcerated since 9/19/2016 for Domestic Violence, Theft, Burglary and Possession of Drugs.  He's under the supervision of the Adult Parole Authority for another 6 months and it's highly doubtful that he will make it that long.   Tssk… Tssk…
The freshly released and 'horny' Hrdy has relegated himself to stalking women on Facebook.  Most recently offering money (which is illegal) to a few different girls on the social networking site.  A personal message between himself and one of the girls can be found below.  It's fairly evident that Mr. Hrdy doesn't know how to interact in society, just yet…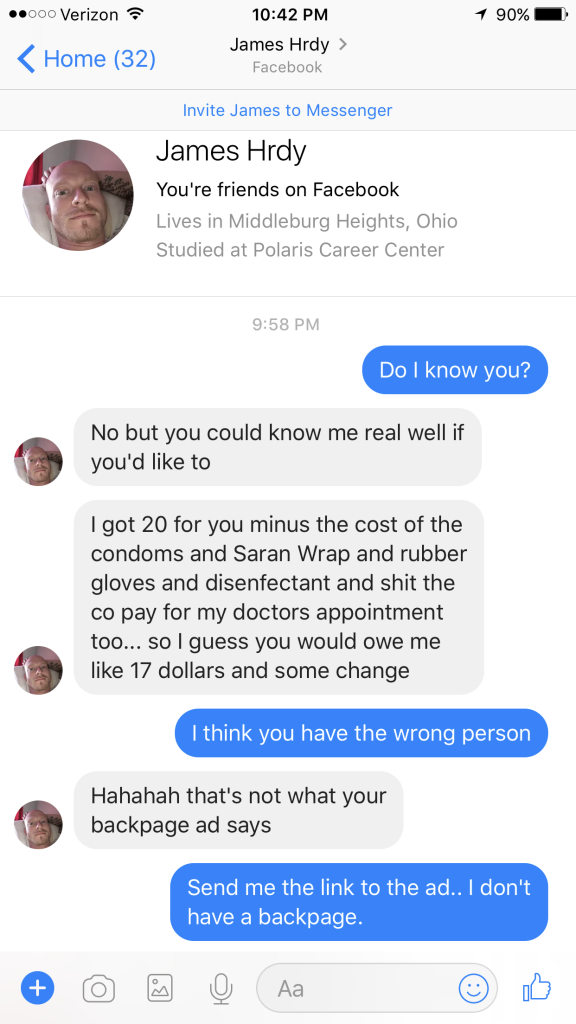 COBRA Says:  At this point in this dudes life he should be focusing on himself, on his future and trying to figure out a means to leave his Mommy and Daddy's house.  Not stalking women on Facebook and giving two shits about anything or anyone else other than what he's gotta do.  You're either a winner or a loser in this life, you would think this guy would be sick and tired of being a loser by now.  Apparently not, doesn't have a pot to piss in or a ____ to cum in.  Shouldn't come as a surprise.  Dudes a fucking low-life degenerate scummmbaaggggg.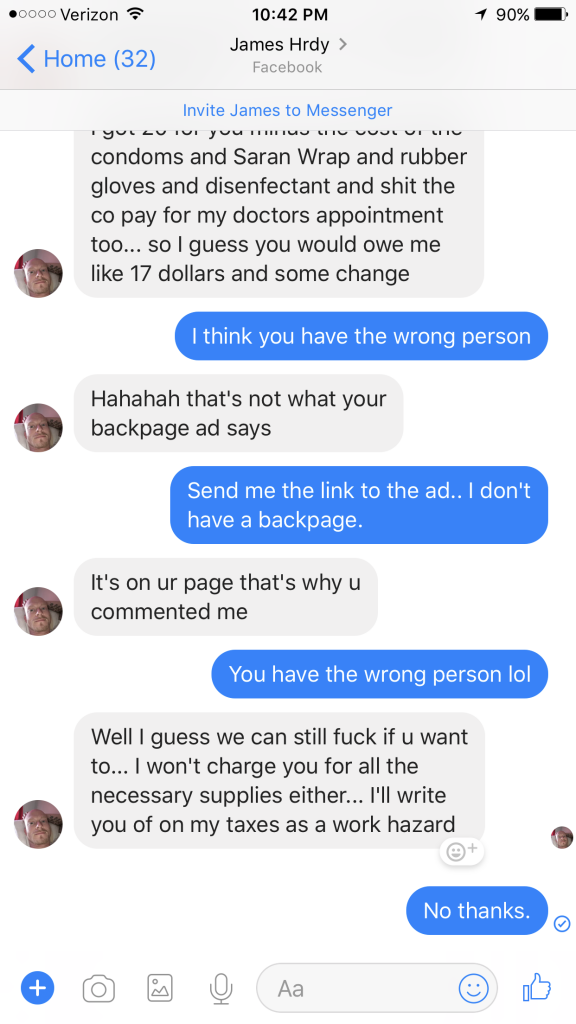 Aside from the conversation shown above Mr. Hrdy has had a lengthy history of abuse against women.  He is essentially the definition of a womanizer.
On 7/18/2013 Hrdy was arrested for Domestic Violence in Middleburg Heights for punching his girlfriend in the head.
On 6/1/2016 Hrdy was again arrested for Domestic Violence in Olmsted Falls, this time for smacking his girlfriend in the face and choking her.
On 7/23/2016 Hrdy was arrested, this time for violating a protection order, consent and anti-stalking agreement.  He was once again stalking his ex-girlfriend that he had repeatedly abused.
Hrdy's Facebook: https://www.facebook.com/james.hrdy.16
SCUMBAGGED Tip:  Ladies, if you're friends with this degenerate on Facebook we urge you to block him, if he adds you, you should immediately decline it.  Anyone that has issues with this piece of shit can easily call the Adult Parole Authority at 216-787-3010.  He's on Parole for an additional 6 months.  To you Mr. Hrdy, you're almost 30 years old, it's time for you to grow up, stop using drugs, start acting like a man, and move on with your life.  You've gotten off to the wrong start and it's been only a few weeks since your release.
Resources:
https://cpdocket.cp.cuyahogacounty.us/CaseInfoByName.aspx (Full name:  James J. Hrdy)
https://appgateway.drc.ohio.gov/OffenderSearch