Update 09/6/2017:  New developments regarding the Harbor Light facility flooding again and misconduct regarding staff: The Harbor Light Saga – New Footage
For many, Harbor Lights is viewed as another opportunity, a second chance and a fresh start.  Some people attend Harbor Lights for substance abuse treatment and others are released from prison to the half-way house.   When new-comers arrive for the first time, all sense of hope & excitement is quickly dashed as the decrepit facility echoes death & despair all the way to the bone.
Over the course of the past decade, Harbor Lights has continued to go down hill.  No money is being recirculated back into the building, the bathrooms haven't been upgraded in almost 20 years, the common areas and bedrooms are all extremely dilapidated.  Infestations are running rampant throughout the walls, there is mold within the facility, it has a constant pungent smell, security is weak, programs lack and the inspiration and hope that thrived in many, has died.
Two days ago, Jerry McCloud (https://www.gofundme.com/rip-jerry-mccloud) of Cleveland, Ohio, fatally overdosed within the Harbor Lights facility.  His death resulted in a total lockdown of Harbor Lights and a nightmare for Mr. McCloud's family & friends.  Questions are being raised as to how this man was left alone for such a long period of time, how he obtained the drug within the building and why someone didn't help him when he was overdosing?  Those answers may go forever unanswered, but the underlying issue is related to extremely poor security, incompetent staffing & lackluster monitoring of substance abuse & half-way clients.
2017 Harbor Lights Security & Safety Grade FAILING, INCOMPETENT STAFFING
Virtually all of the individuals who currently reside at the Harbor Lights facility have said that the food is really good.  The number one complaint is roaches.  Every single client has complained about roaches scattering through the housing units, day rooms and food areas.  The second highest complaint is followed by the facility falling apart.
2017 Harbor Lights Sanitation Grade FAILING, ROACH INFESTATION
2017 Harbor Lights Dietary Grade PASSING
Harbor Lights was just recently inspected by the State.  Somehow the facility continues to pass, which is an interesting fact.  An inspection is when a quality control effort is made, to ensure that the facility is falling within various housing guidelines and regulations.  Those regulations are fairly standard across all State institutions, whether they be prisons, half-way houses or rehabs.  The trick to a facility such as Harbor Lights passing is this.  Prior to the inspectors arriving a notice is sent to the administrators.  Those administrators then inform the clients to "chop chop" before the inspectors arrive.  In most cases, the inspection date is known days or even weeks in advance.
Inmates/clients are then required to clean excessively, and begin a masking procedure to hide the nightmare in which they are residing.  They do this by moving things around, dressing things up and spraying excessively.  The truth is that the facility probably still fails, but the inspectors being part of the State or an independent firm hired by the State, continuously give them a pass.  After all, who cares about drug addicts and convicts, right?
2017 Harbor Lights Inspection Grade FAILING, MANIPULATION & TIP OFFS
Images From Within Harbor Lights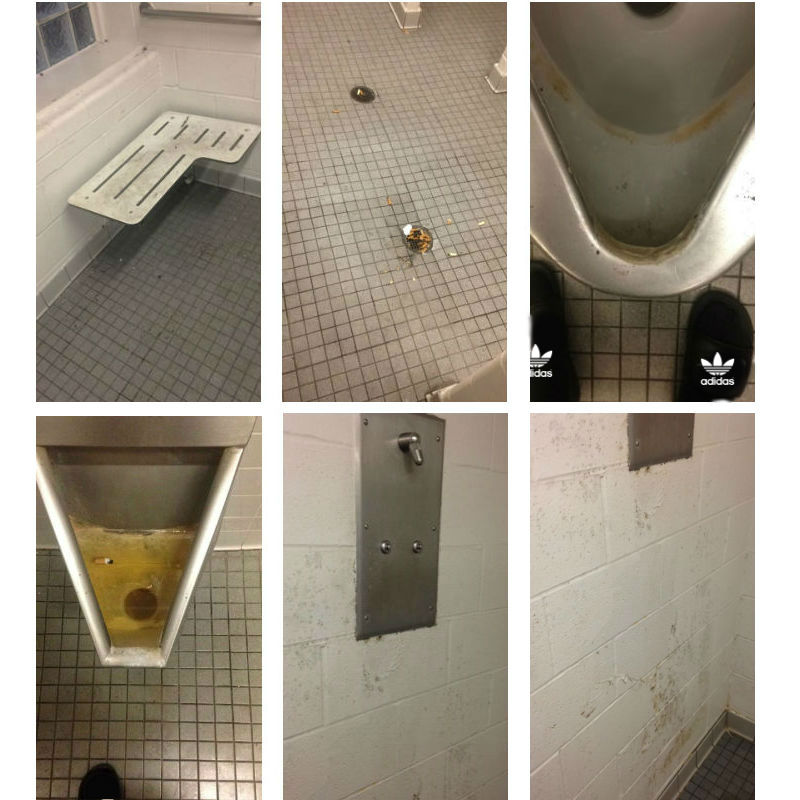 These images of the Harbor Lights bathroom above are typical of what you would expect to see within a county jail or prison institution.  For inmates to be released to a half-way house with standards such as this actually being WORSE than what they were faced with while in prison is simply unacceptable.  Half-way houses are supposed to be a step in the right direction, towards more comfortability and a re-introduction into society, not the other way around.  Keep checking back, more images from within the facility are being compiled.
COBRA Says:  I would refuse to go to this location.  If they are trying to send you there, request to go somewhere else – unless it's your absolutely last resort.
Readers Note:  The Salvation Army / Harbor Lights complex has been in business for more than 50 years.  The facility offers a host of services ranging from Alcohol & Drug addiction services and programs such as P.A.S.S., Community Corrections, Electronic Monitoring, the Zelma George Family Emergency Shelter & more.
The operating expenses for the fiscal year ending in 2014 totaled $23,426,425.  Of which more than 10% of that money was spent on Management & Fundraising activities.  This means, that precisely $2,500,000 went into pockets of others that were not in need, this money could have been used to upgrade the facility and bolster it's much needed programs.  There is also evidence of possible skimming that could be noted within the contradictory FAQ's provided on the Salvation Army's website and the Total Operating Expenses chart.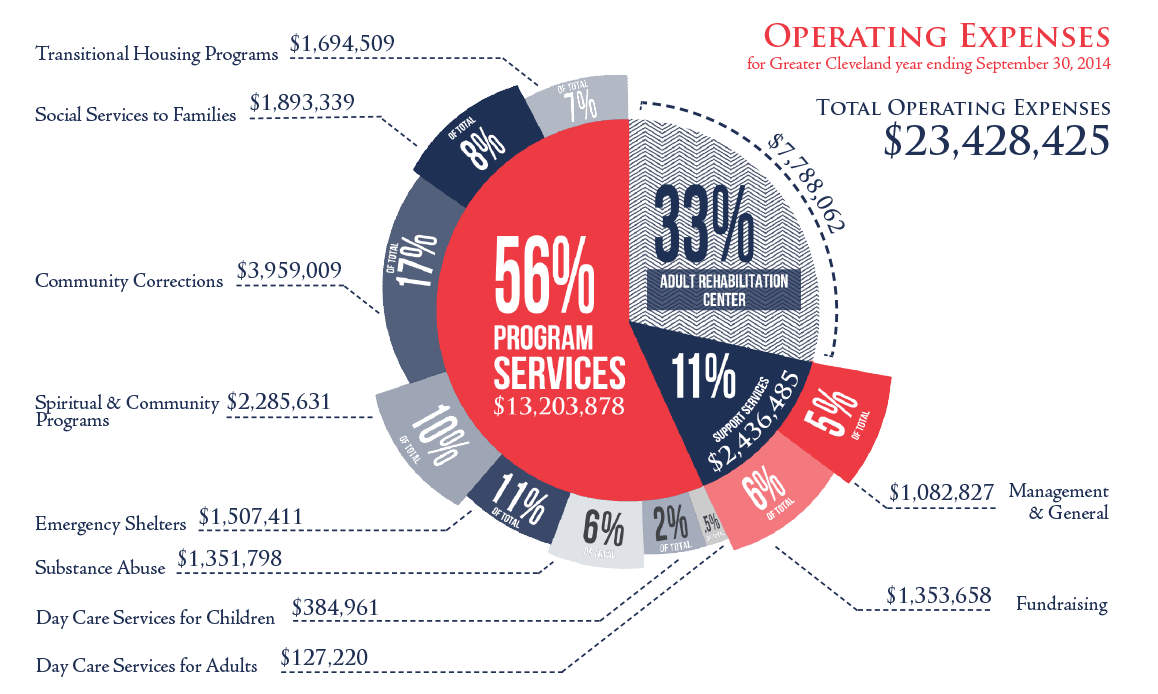 According to the chart above, 5% of the budget went towards management/administration.  Yet on the FAQ page this number is off by 8%, stating that only 87 cents of every dollar goes to programs, while 13 cents goes to administration.  That's 13%…  Even when combining the Management & Fundraising categories we only reach 11% which leaves a 2% differential.  2% of $23,428,425 might not sound like much, but is $468,568 unaccounted, misplaced & missing money.  Money that is much needed elsewhere…

SCUMBAGGED Tip:  Harbor Lights is making enough income yearly to invest back into their facility.  What's happening is a severe misappropriation of funds, culminated with skimming and heavy pocket loading.  If the administrators of this facility can't figure out how to remove infestations, upgrade facilities and make an environment that is conducive for the client, then they should be removed from their post.  Immediately.  There should not be blatant overdose deaths occurring within this facility.  It simply shouldn't happen.  Nor should the multitude of other issues still be present with the amount of income that is received on a yearly basis.
References:
http://neo.salvationarmy.org/northeastohio/faqs
http://neo.salvationarmy.org/northeastohio/ClevelandAnnualReport2014