Judge David B. Cohen presided over a matter earlier this week regarding a New York City bar that kicked a pro-Trump supporter who was wearing a "Make America Great Again" hat out of its establishment.  During the hearing Judge Cohen ruled that "kicking a Trump supporter out of a bar does not violate the law".  When the man (Greg Piatek) was kicked out of the Happiest Hour Bar he claimed that the staff shouted at him saying "Anyone who supports Trump – or believes in what you believe – is not welcome here! And you need to leave right now because we won't serve you!".
Judge David. B. Cohen's decision shouldn't come as much of a surprise considering the newest revelations discovered today.  When utilizing the New York Voter Registry database and producing a simple search for the Judge using his information, he has voted pro-democrat for more than a decade.  He also voted for Hillary Clinton in the 2016 election.  In addition he is also listed on the New York Court's Website as none other than a Democrat.
Judge Cohen is also the same individual who co-authored an academic report titled "Killing Me Softly:  George W. Bush, The Environment & The Administrative Presidency".  In this educational piece he went on to condemn then President Bush's environmental stances and his alleged "abuse" of administrative options used during his presidency.  Fast forward a decade later and Mr. Cohen was an avid supporter of President Barack Obama who used the power of executive orders in the extreme.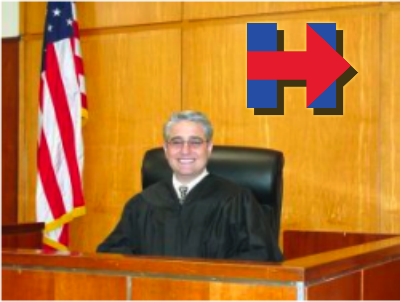 COBRA Says:  One can only begin to fathom what would have happened if the roles were reversed.  What if Greg Piatek was wearing a supportive Hillary Clinton hat instead of a Donald Trump one and was ousted from "The Happiest Hour" bar.  Would Judge Cohen's decision have been different?  One can only begin to fathom…
As if Judge David B. Cohen's recent biased ruling isn't bad enough, there are even more blemishes on his record.  Going back the past 5 years there are a backlog of reports with Judge Cohen siding with dozens of Manhattan's largest democratic slumlords.  One such case can be found below.
"Not only was I not served any papers but the landlord's attorney at the time (Stephen B. Sperber) lied to Judge David B. Cohen by informing him he served me, when he didn't. Judge Cohen bought it and asked for no evidence instead he hinged on the fact that I had not surrendered the keys to the landlord. The landlord had made a deal with me via email to pay me for moving expenses after I move out then made excuses for meeting to complete the transaction and on top of that started a retaliatory and frivolous OSC against us which was vehemently denied in court.
Interestingly, this was the same judge who informed Pedro Rivera (our pro bono attorney who mishandled our HP) at our tenants association's first court date that we needed "documents" proving that we were an official tenant association in order to proceed with that particular HP, this was just a ploy to buy them time as no "papers" are needed to file an HP as a tenant association, a loose association suffices and all our names where on the individual affidavits as explained by Mr. Rivera albeit 1 day before we supposedly needed them."
Judge David B. Cohen also appeared on a Fox5 news telecast in connection with 452 Fort Washington (another run-down neglected building in upper Manhattan), he was exposed on this local TV channel for being very lenient with another democrat slumlord as well.
COBRA Says:  If you're in New York City avoid "The Happiest Hour" bar entirely. After all, if you're from Cleveland and wearing a Tribe t-shirt or Browns jersey, you might just not match their preference and get booted to the curb before your "Uber" is scheduled to arrive leaving you drunken and disorderly… 
The Bottom Line:  Judge David B. Cohen shouldn't have presided over this case purely based on his public voting records and prolific support of Hillary Clinton.
SCUMBAGGED Tip:  Anyone who has a civil proceeding with this judge moving forward is urged to wear a "Stand With Her" hat and make democratic stances and insinuations during their proceeding.  You will surely gain favor with the Judge if you do so.
References: