George Molina & Jasmine Rios are the Bonnie & Clyde King Pins of Lorain, Ohio.  George tries to be as low-key as possible but he's very well known for the pills and drugs that he sells.  His side-kick and girlfriend, Jasmine Rios aka Jasz Marie, helps him accrue cash by setting men up and robbing them with George's help.  Why they would even stoop so low as to rob people is beyond me because George is known to be one of the biggest drug dealers in Lorain county. He advertises his illegal drugs on his Facebook and on FB messenger.
Some of the drugs that he sells is the following; Edible marijuana, percocet & xanax but mostly just marijuana. All in the house that his own son has to lay his head down each night. Jasmine is recently off of a percocet addiction and trying to get her life back on track.  Before getting sober she would preform sexual acts for cash with the men she sells marijuana to when George wasn't around.
I also want to add that these two, they are dangerous. With guns and a lot of money. They will take what they want…  https://www.facebook.com/george.molina.5205 and https://www.facebook.com/jasz.marie.35.  Just think, if you didn't rob me I wouldn't have ever posted this on you two fucking scumbags!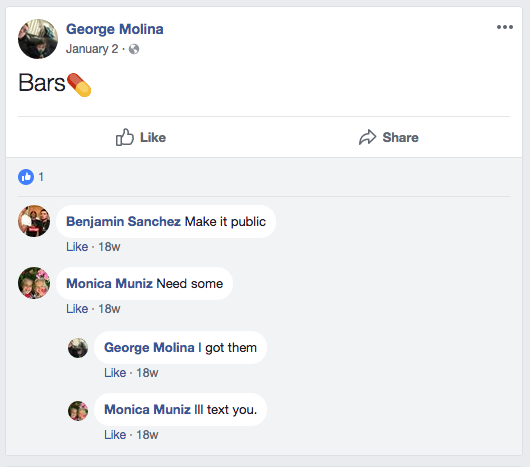 HAWK Says:  This must be Facebook Drug Dealer month, because here we go again.  More morons airing their dirty laundry all over Facebook. 
The Bottom Line:  As we've stated in the past, why tell on yourself?  It's one thing to do illegal shit and get caught by a nark, but to tell on yourself all over the internet is just plain retarded.  Also, robbing people isn't cool at all.  Probably why you've been submitted for being a bunch of scumbags…  Don't do scumbag things, won't be submitted, pissed some people off out there eh?
SCUMBAGGED Tip:  Don't do illegal things plain and simple.  If you invest all the time you spend doing illegal endeavors into legal avenues you'll eventually accrue wealth (maybe not as fast) that you never would be able to retain doing things like drug dealing.  Every dog has his day and you'll lose it all – only a matter of time.