In this edition of Facebook's Dumbest Drug Dealers, Marquis M. Cullins of Atlanta, Georgia has really outdone himself.  The 25 year old has a history of drugs & violence and as a result of his Facebook retardation, he has essentially handed himself a 20 year Federal Prison sentence.
Most recently Mr. Cullins posted a picture (and made it his default at one point in time) with 12 bottles of Promethazine Hydrochloride, also known as "Lean or Purple Drank" which is a codeine or opiod base.  As if Mr. Cullins flaunting his addiction on Facebook wasn't bad enough, he took it a step further.  Exposing himself with bags of crack cocaine, ounces of marijuana, semi-automatic guns, pistols, thousands of dollars in cash and confessions of attempted murder.
Mr. Cullins previous criminal history consists of a myriad of drug related charges dating back to 2009 when he was charged and convicted of Possession of Marijuana.  Then in 2010, charged and convicted of Possession of Cocaine.  Onto 2011, another Possession of Marijuana & an Obstruction of Official Business.  The following year, 2013, Possession of Marijuana & Possession of Cocaine.  Then in 2014 he has a Probation Warrant for Possession of Cocaine & was held as a Material Witness in another case (ie; ratting and testifying at a grand jury proceeding).  In 2015 he had another Possession of Marijuana &  Possession/Purchase of Cocaine.  Finally his last year on record in 2016 – Carrying Concealed Weapon, Marijuana Possession, Probation Warrant – Possession of Cocaine, Fugutive from Justice.  You can view his full docket in the Fulton County Court System (Atlanta, Georgia) here.
COBRA Says:  This guy isn't just the Facebook's Dumbest Drug Dealer, but perhaps the dumbest in the entire fucking world.  He has seriously provided every bit of evidence that is needed for any state or federal jurisdiction to prosecute him…  
Needless to say, Mr. Cullins has without a doubt taken the crown as Facebook's Dumbest Drug Dealer to date and has none other than himself to blame.   The pictures below are featured on his personal Facebook page (which, not surprisingly, is public for all to see).  You can also see his actual Facebook page by clicking here.
The Evidence Gallery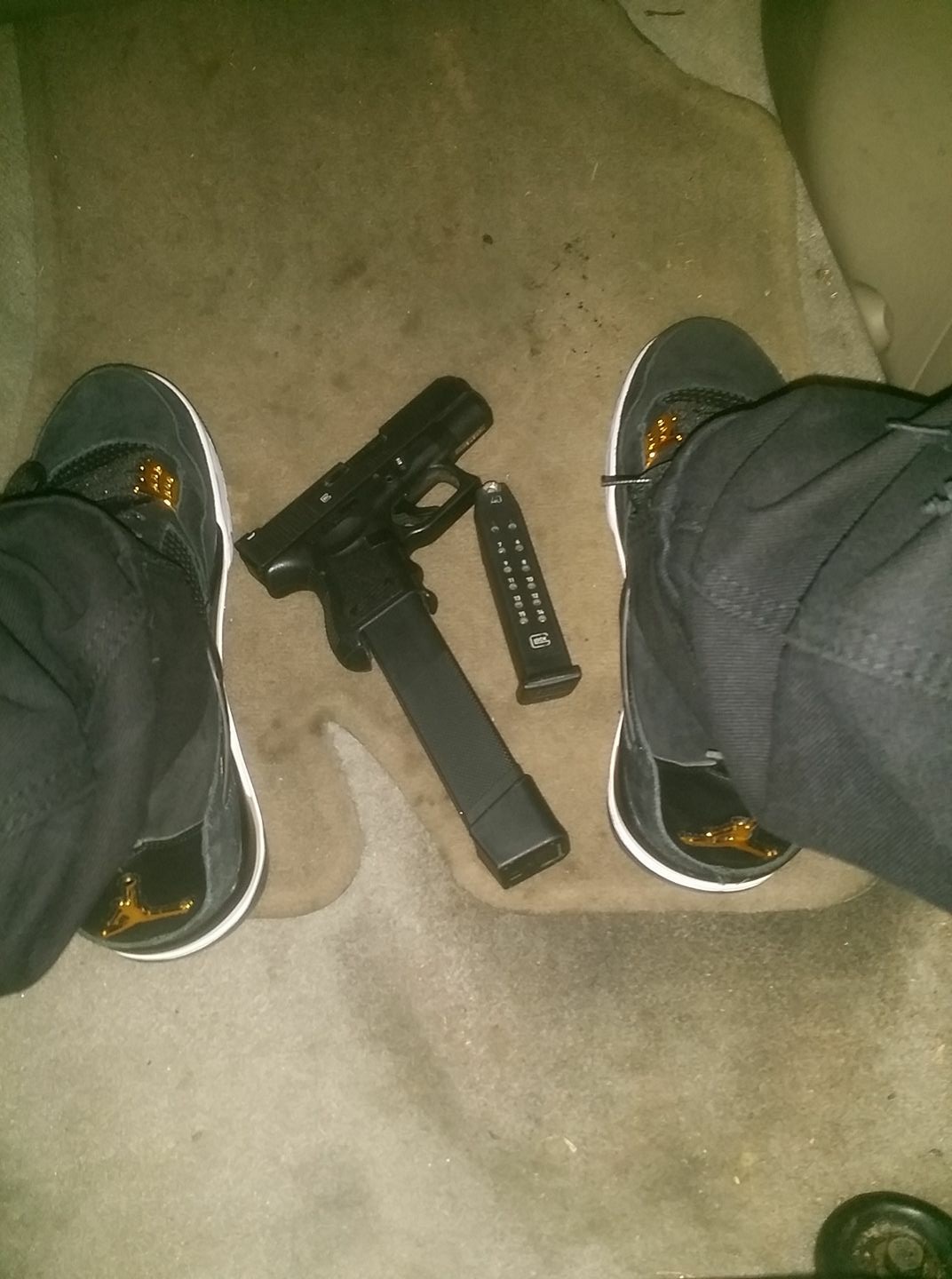 Mr. Cullins just couldn't stop himself from taking picture after picture after picture of drugs and guns and in the process documenting felony after felony after felony.  As if the images of drugs and guns weren't bad enough, he further incriminated himself by taking screenshot's of text messages with individuals he was "serving" and regarding other sensitive topics, such as how he allegedly shot someone just the other day…
The remark about "shooting someone" shouldn't be taken lightly.  He had a close call back in 2016 when he was shot and almost killed (and actually a teen who was with him was shot to death on accident) in an attempted hit.  Probably because he is so flamboyant and so everyone wants to take what he has…  Read the full story here:  Police: Car in East Point teen's shooting death tied to crime spree
The Bottom Line:  If you are into this type of activity it's probably best not to document every single facet of your operation online.  It's also probably not advisable to share screenshots of conversations where you mention the fact that you had just killed or attempted to kill someone the day prior.
SCUMBAGGED Tip:  The reality is, it's best to just live on the up and up.  Fast money is nice, but it goes fast and when the jail time comes and you start doing the math, that fast money spread out over the course of a 5 or 10 year stint turns into a below minimum wage job.  Then if you factor in all of the assets that are seized and all of the money that is spent fighting your cases or bonding out, you're in all actuality living off of nothing.  Hustling for nothing.  So if you're reading this and you're a hustler, you officially make less than someone who flips a fucking burger at the end of the day.  That's the sad truth.  Every dog has his day…  #GetSmart