Aces Bar & Grille in North Ridgeville has permanently closed.  The bar, which has been around for almost a decade was a go-to hangout that provided a comfortable and fun atmosphere that featured entertainment on the weekends, great food & drinks.  Aces was also the most popular bar in the city and it's closure has left many asking what happened.  Well, this is how you lose a prominent business in 365 days… 
In August of 2017 Lucky Bezak, the previous owner, was exposed for a multitude of issues stemming from abusing his position of power and wielding his financial influence on young female servers in return for sexual favors.  He was also outed for his underground book making operation that saw him net ten's of thousands of dollars a year in illegal and illicit gambling revenue.  Bezak was also exposed for an extortion that took place on the physical Aces Bar & Grille premises.  The article, Lucky Bezak Exposed – The Aces Bar & Grille Front, was read more than 120,000 times by Northeast Ohioans.  A day after the story broke, Lezak was ousted from his ownership and thus began the downward financial spiral of Aces.
In October of 2018, Aces and Lucky Bezak graced the front pages of Scumbagged once again (here).  This time he was exposed for his rumored attempt at hiring a local hit man, filing for bankruptcy, facing divorce and losing his Avon home.  All in all, this final article was read by more than 40,000 unique viewers, of which 19,000 were from the city of North Ridgeville alone.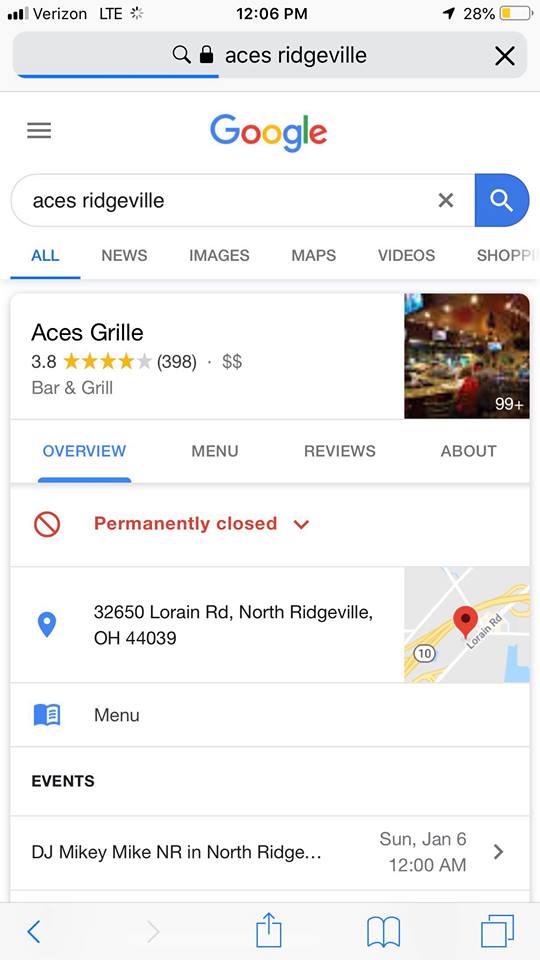 In a confirmed closure, the company's Google business listing now declares that the bar is indeed "permanently closed".  The front door of the business also features a closed sign with a for sale sign looming in the distance.  Aces is gone for good, now the only question that remains is who or what will replace it?
Nothing can kill a company faster than a slow-down in business.  Even by the smallest margin especially when faced with an increase in city taxes, rising wages and overhead costs.  That is precisely what happened with Aces.  The bar also is in need of a complete makeover, one that has been discussed for a long time, but never saw turn into complete fruition.  Both of the bars bathrooms were re-done as well as the upper portion of the bar by the ceiling in the past year.  But the rest all fell to the wayside due to finances.  As a result of the downtrend, Aces employee's were underpaid and the product (food and service) reflected as a result.  In some cases employee's were paid late, by more than a week and with hand written checks.
To make matters even worse, the North Ridgeville Police didn't certainly didn't make Aces as inviting as it could have been.  On many Friday and Saturday nights a black and white police cruiser could be visibly seen sitting adjacent to the bar – just waiting for anyone who may have "overstayed their welcome" to pull out.  The NRPD could also been seen on occasion marking patron tires (via chalk) which was used to indicate how long a vehicle had stayed in the parking lot for.  If deemed to be an excessive duration this generally meant that the driver would be intoxicated and impaired.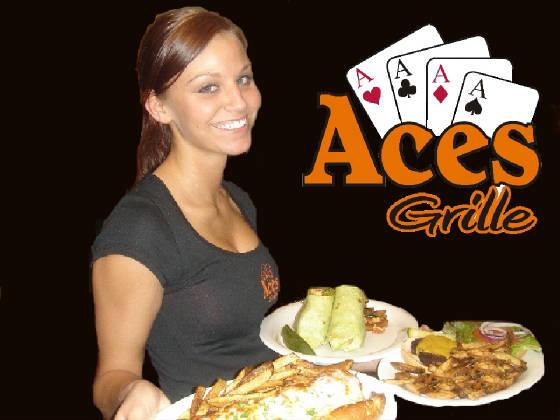 Employee's who worked at Aces took to social media spreading news as early as 1/2/2019.  Pictures began surfacing with a friendly notice that stated the establishment would be closed and re-opening after the holidays, even a Facebook post on the company's page on January 1st wished everyone a Happy New Year.  Then, Scumbagged received numerous submissions and tips from current employees and individuals close to the current owner "Darren A. Ewaska".  All of which reiterated that Aces wasn't ever going to re-open again.
Readers Note:  As of this writing there has yet to be a public announcement on the company's Facebook page or on behalf of the owner regarding the company's closure.
COBRA Says:  Perfect example of scumbaggery here folks.  I mean their mission statement was kinda funny… "We will be committed to developing personal relationships with our guests and community while sharing with them our passion for food".  Sadly, the wrong kind of relationships were formulated behind the scenes that brought this shiny bar in Ridgeville's epicenter crashing down.  
Not So Fun Fact:  Are you from North Ridgeville?  Did you know that you're being subjected to mass manipulation and unseen censorship?  Articles from Scumbagged are banned by community forum's (forum's that are owned by family members of the very business owners and government employees that we expose).  Take a step in ending your censorship by joining this North Ridgeville group on Facebook: North Ridgeville Ohio Public Forum (Uncensored)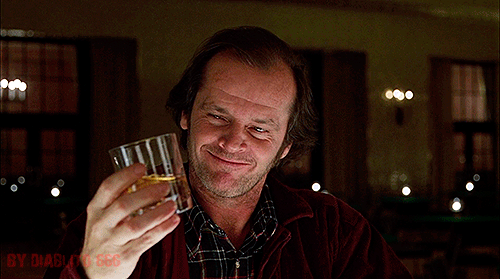 The Bottom Line:  Aces wasn't too big of a bar to fail.  There's plenty of other bars in the area that are going to see an influx in business now.  Lone Tree just might need to build an extension.  Anyone who is upset by the closure, shouldn't be.  It's good to shake things up once in a while, new faces, new food, new friends.
SCUMBAGGED Tip:  If you're thinking about opening up a bar, or business, think about what happened to Lucky Bezak and the Aces Bar & Grille in North Ridgeville.  You may think you will get away with whatever you plan on doing, and you just might, but why take the risk?  You could lose your home, your business, your family and your entire retirement.