Keith White is one of the most fucked up people in Lorain, Ohio.  He runs around acting like a so called DOPE BOY 😂 while on the flip side asking people to help him get on.  He moves room to room and plays every single girl that he can.  He's a low life bum who needs to get his life together.
Keith looks like he's about 58 years old in his mugshot, when in reality he's still in his 30's.  He needs to stop smoking crack and mixing it with meth before he turns into a 40 year old 80 year old.  Keith has stooped to all sorts of levels to support his high, robbing those closest to him and deceiving everyone that he possibly can.
HAWK Says:  Crack kills.  Point blank.
Keith if you're reading this I submitted you because all of what I said above is true and you need to really stop being such a low-life scumbag.

The Bottom Line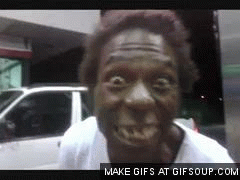 SCUMBAGGED Tip:  Time and time again we see how individuals are submitted for their scumbaggery and in almost each and every case addiction plays the primary role.  If it isn't drugs, it's gambling, if not gambling it's sex.  Lay off the dope and addictions and live great lives.  Plain and simple.