James "Bitch Ass" Barker aka Jay Goon is the "Scumbag Dad of The Year Award" winner for 2019.  James is hands down one of the most despicable, pathetic and inhumane pieces of trash to grace Northeast Ohio in recent memory.  Not just because of his sickening behavior, but because of who he perpetuated his attack against and the age of the individual.  Barker, whom is currently in custody and being held at the Cuyahoga County Jail on a $250,000 bond stemming from a vicious assault on an 8 month old child, his own son.  Barker brutally and savagely attacked his baby, beating him within an inch of his life and pounding him repeatedly in the head, face, arms & legs.  The attack caused extensive bruising, swelling, and even left behind a possible concussion or intracranial injuries that have yet to be identified (images contained below).
James Robert Barker (born 08/30/1992) is not a father, nor a man, he is simply just another scumbag.  He didn't kill his son (like some have done), he didn't break any bones (thankfully), but what he did do was inexcusable…  Out of a fit of rage and allegedly because he couldn't tolerate his child screaming in between trying to get his next high, he turned like a rabid dog would and unleashed himself on his own child.
After the assault, the entire city of Cleveland was outraged with hundreds of people avidly searching for Barker's whereabouts.  Individuals had taken to social media with comments such as "I'm gunna kill that bitch ass nigga" and "he's going to get his".  While others took the "I move in silence" option and wen't out on the prowl in the hopes of giving the 8 month old baby beater some true old fashioned justice.  Luckily for Barker he was apprehended before anyone could get their hands on him.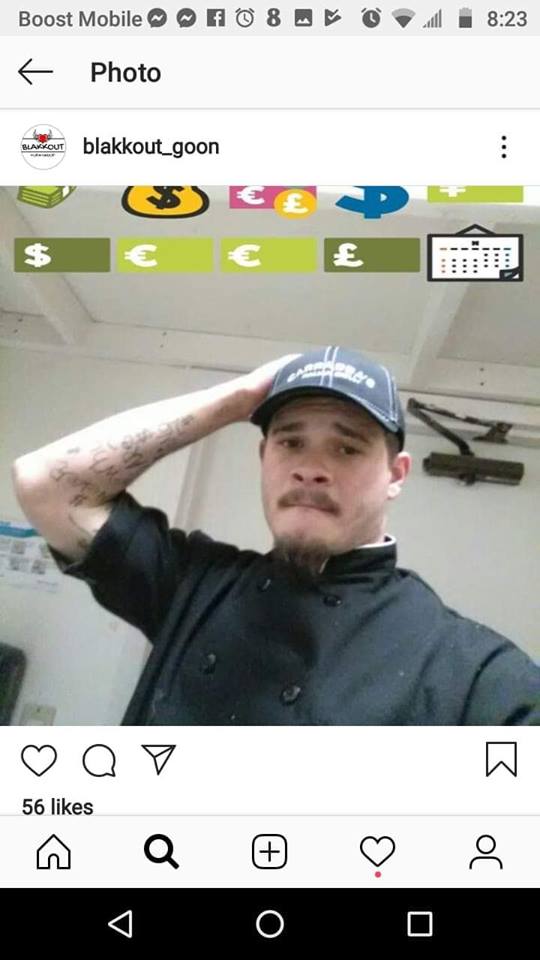 COBRA Says:  In prison this scumbag will get his just reward.  Not only will the State of Ohio penalize him for his unthinkable crimes, but the individuals on the inside, after getting wind that he is incarcerated for beating an 8 month old child will treat him like a rag doll.  Come commissary and store runs, his box will be hit, he will be faced with fighting behind a back wall consistently or being the bitch that he is and watch as anyone and everyone tramples over him and his worldly possessions (Chicken Ramen Noodles, koolaid packs and a jPlayer if he's lucky).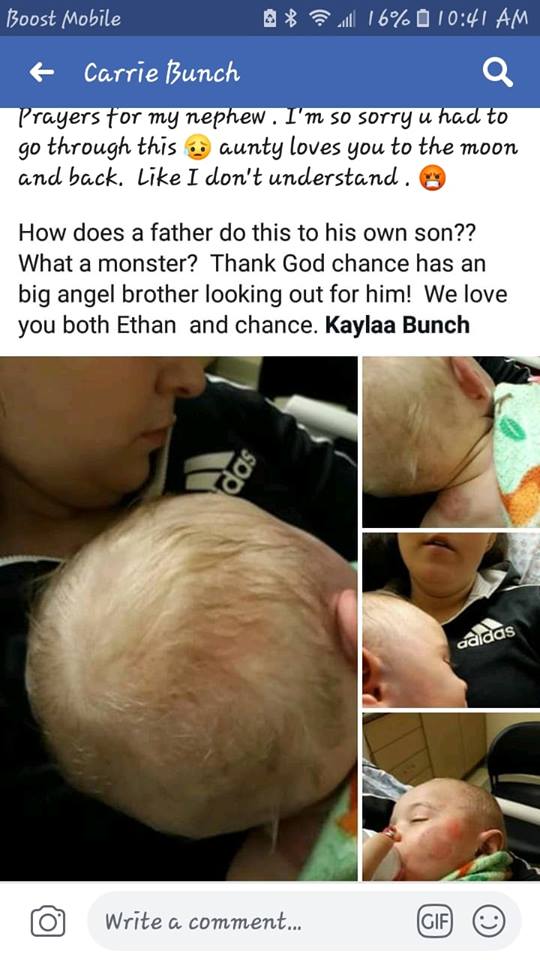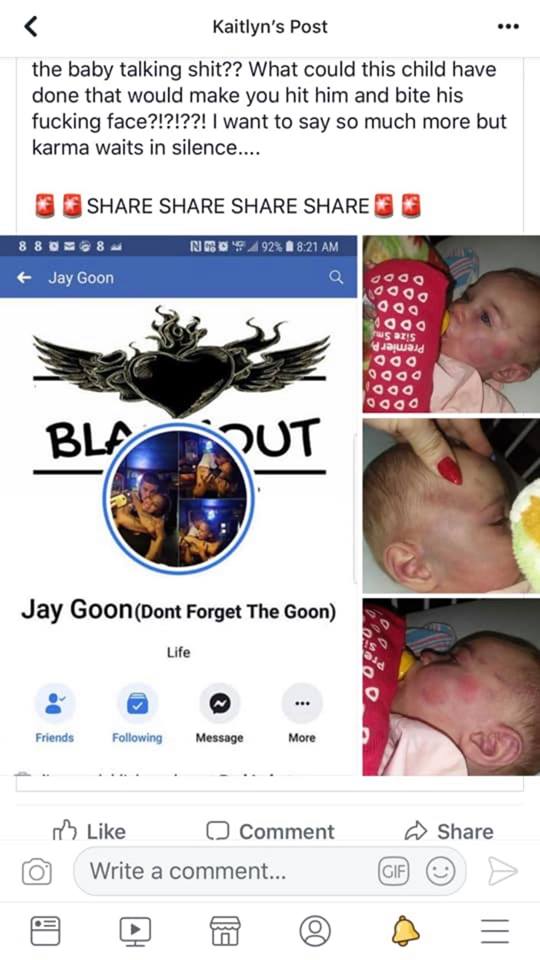 The Smackdown (Video)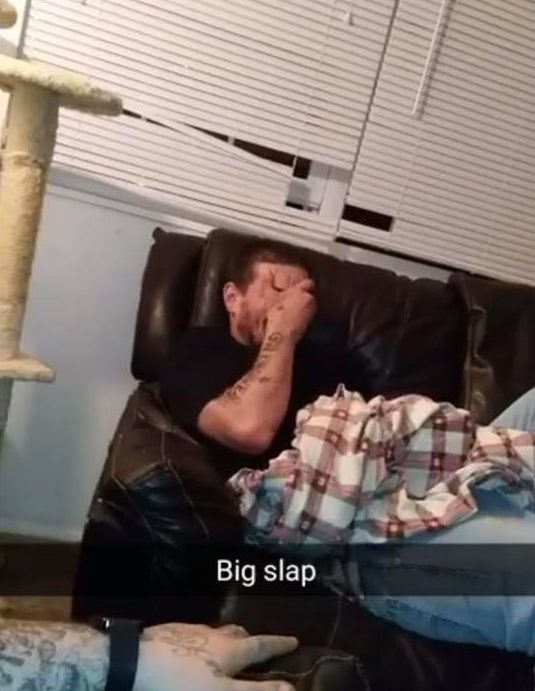 A few days ago a video surfaced that showed "Bitch Ass Barker" getting bitch slapped while it appeared he was nodding out, presumably from heroin.  The video has since been deleted off of Facebook for violating their terms of service (and because Barkers friends and family have had it reported).  If you or anyone has possession of this video please send it to scum@scumbagged.com so we could upload it to our personal servers and display it for the public for all of eternity.

A Mother Speaks
Kaylaa Bunch has this to say about what James Barker did to their son:  "This shit is breaking me , like people are saying it's my felt for even letting him get him!! Like man I just wanted him to know his FATHER & never in my mind thought he would hurt our son !!! My first son passed away , & I had 4 miscarriages be for i had my daughter ! I don't let NO ONE watch him BUT FAMILY ! after my daughter I had 3 miscarriages be for i had my son . So my kids are my blessing && my life dude . I'll NEVER LET ANYTHING HAPPEN TO THEM OR LET THEM IN Harm's Way . This is ALL ON HIS FATHER && I pray he gets what he deserves for sure 💯💯"

The Bottom Line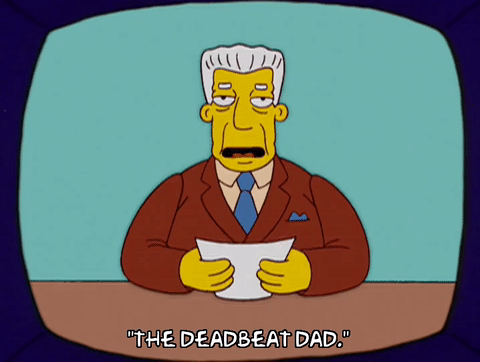 SCUMBAGGED Tip:  This website was founded because of people just like James "Bitch Ass Baby Beating" Barker.  Whenever a grown adult places their hands on a child, there is absolutely no remorse that should be bestowed upon them.  It is something that we should never have to see, never have to deal with.  Mother's (and Father's) should never get the dreaded phone call or news that someone has done the insane, the unthinkable, the unforgiveable.  Yet, time and time again we see it, on both a local and national level.  Repeatedly individuals appear on our television screen's and Facebook live feed's with some weeping over what they did to their own children – while others sit in pure silence, oblivious and careless to their sinister evil and extremely hate filled actions.  We expect Barker to be that of the latter.  A whiny, crying little bitch who is going to be looking for remorse from the Judge, proclaim he was high on dope and or withdrawing from his poison, all in the hopes of getting out as soon as possible to only score his next high or piece of ass.  Moral of the story is, trust your gut instinct with someone, if they exhibit any traits, any warning signs or if you just feel like ANYTHING can happen, then don't place yourself or your children in harms way.