Stan Boozer, a 65 year old North Ridgeville resident has been left without power, heat (furnace) & hot water for nearly 40 hours.  He has been given no time-frame as to when his power may be restored and is currently attempting to heat his home with a ventless gas heater and his stove.  Temperatures are scheduled to drop into the low to mid 20's this morning (when taking wind-chill into account) making his situation ever more perilous. 
At approximately 6 a.m. on December 30th, 2019, high winds saw several poles come crashing down on electric lines adjacent to his home, the poles allegedly being owned by Windstream.  Mr. Boozer has made complaints stemming back two years ago regarding a third electric pole being rotten, all of which have been disregarded and have now left him in the position he's in.  Approximately 800 residents in Lorain County saw their power knocked offline from the high winds with roughly 600 having their power restored within a few hours.  A full forty hours later and Stan Boozer is the only resident in North Ridgeville left without power…
Boozer is growing frustrated with his current situation stating "What can I do to get my power back on? Two poles came down yesterday morning at 6:15 AM. These poles I'm told are owned by Windstream.  They were rotten and so is a third one that I'm told will not be replaced. FirstEnergy, Ohio Edison was notified 2 years ago that one was ready to go but nothing was ever done.  I've had no power or furnace since. I've been patient but its my turn."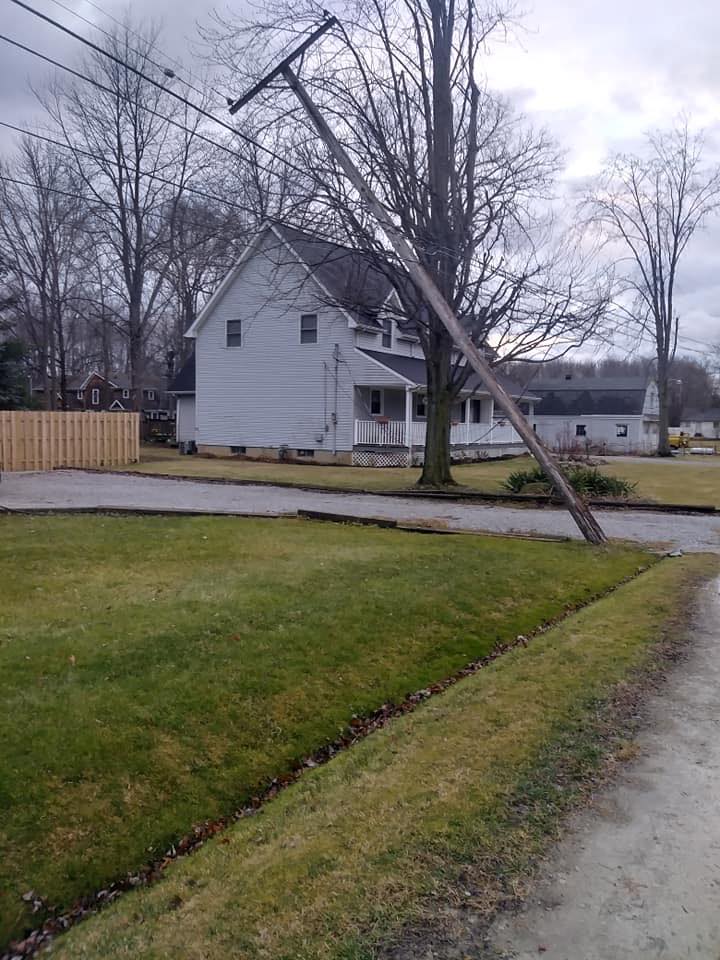 "Did someone tell them I voted for Trump"? – Stan Boozer
Boozer has tried to maintain a humorous attitude towards his current situation adding that out of all the individuals left without power "being one of them is like hitting the lottery" and that perhaps the reason his power hasn't yet been restored was because he voted for President Donald Trump stating "Did someone tell them I voted for Trump"?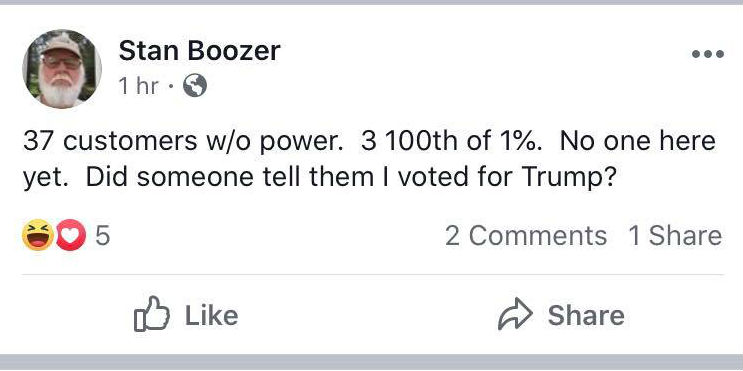 After reaching out to Ohio Edison regarding the power outages for Mr. Boozer and the remainder of the residents in Lorain County FirstEnergy stated that they "hoped to have the majority of the people online by 11:30 PM".  However, nothing was mentioned regarding Stan Boozers situation outside of the fact that they would "need more equipment". 
According to Ohio Edison's 24/7 Power Outage Center, there are only 21 residents currently without power in Lorain County with Stan Boozer being the lonely North Ridgeville resident remaining in the city without power.

Article Update:  Approximately 30 minutes after this story broke, FirstEnergy appeared on the scene attempting to restore Mr. Boozers power.  A video has been submitted that shows multiple trucks and FirstEnergy vehicles on sight.  Individuals will remain updated with the status of his situation.  This isn't the first time that FirstEnergy has arrived to his home.