The Motel 9 in Elyria (previously known as the Howard Johnson) is one of the worst motels in Northeast Ohio.  Hotel guests have been raped, robbed, murdered & diseased from staying at this location.  The Motel 9 has had numerous bed bug outbreaks, the hotel cleaning employees are crackheads and the owner enables all of the illegal activity that transpires.
In 2013 the Motel 9 was struck with a serious outbreak of bed bugs that plagued it's visitors for approximately 8 months.  Then in 2015 & 2016 the motel once again had another bed bug infestation that went out of control for more than a year.  The owner of the motel was alerted, yet he refused to do anything until the city of Elyria got involved and threatened to shut the joint down.  Virtually every single room was infested with the bed bugs.  According to a submission dated 8/19/2017, the bed bugs have returned.
If you book a room at the Motel 9, there are hidden features that are not mentioned on the website or the dilapidated sign hanging outside.  The following will most certainly be included in your stay:
Elyria Motel 9 Features: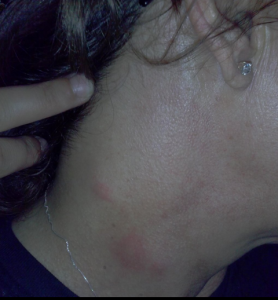 1.) Crack heads, prostitutes, bed bugs, crack pipes in the rooms, in the parking lot and toothless hookers that look like they have every single disease known to man.
2.) You have the potential of waking up to your vehicle broken into, a brick in your front seat, your cd player & money stolen.
3.) There's a good chance you'll be approached by beggars, drug dealers, hear gun shots, sleep on unwashed sheets, touch coated bodily fluid (cum, blood, feces) on the wall, on the bed and on the carpet.
4.) Your room will smell like a dead body, outside of your room will smell like the fresh aroma of smoked crack cocaine & the lock on your door will barely work.
5.) Lastly, watch where you step, you wouldn't want to accidentally get poked by any infected hypodermic needles laying around.
You can stay at this great establishment for as little as $30-$40 per night when paying directly at the front desk.  Your purchase will be made behind bullet proof glass and don't be surprised if a dope feen accosts you for a cigarette or spare change.  The locals refer to this establishment as the "Crack Motel" or the "Trap Motel".  The entire building is a moldy health hazard and harbors the nastiest, dirtiest and ugliest that Backpage.com has to offer.
Fun Fact:  In some cases, people who didn't pay their rent on time for the day would arrive at their room only to discover a non-working key and all of their belongings stolen.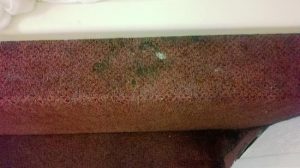 Linda & Ben, the couple that is responsible for the maintenance of the Motel 9, are both heavy long-time crack cocaine users.  These two receive very limited income in exchange for their cleaning service, as a result they will steal anything that they think they can get away with from you during your stay. For more than a decade the couple has lived and worked out of the Motel 9 with their 5 children.  When the authorities were alerted that 7 people occupied one motel room, the Motel 9 owner purchased a house directly across the street for the couple to live in.
COBRA Says:  How Motel 9 is still in business is a fucking mystery in and of itself.  The city of Elyria has ran numerous stings off of the 57 motels, recently at the Red Roof Inn and the Ramada (now Days Inn) have netted upwards of 50 arrests.  The Motel 9 isn't immune to these stings as they have been involved in several and the police are aware of the excessive nature of the hotel occupants.  Shut the shit-hole down scumbags…  
The primary Motel 9 owner not only knows what takes place inside of his rooms, but knows exactly whose renting from him.  He relies entirely upon business from the worst types of individuals.  Without the extreme degenerates who frequent the motel – Motel 9 would be out of business entirely.  Going beyond the cash incentive, the owner has 'tricked' with numerous girls that work out of the motel.  This isn't a rumor, this is a fact.
"free nights or a little money in exchange for sexual favors"
The owner, who is an older male, approximately in his 60's, wears thick rimmed glasses, appears sickly and speaks broken English.  He's been known to enter the rooms of girls who rent from him while they are asleep (or awake) without knocking and attempts to solicit them for sex.  One girl that stayed at the Motel 9 said "he offered us free nights or a little money in exchange for sexual favors, we always turned him down – (he is) the definition of a creeper".

The Motel 9 is located at 1724 Lorain Blvd, Elyria, Ohio 44035, their phone number is 440-323-1515 and owned by a complicit family, consisting of a husband a wife & a son.  These scumbags, believe it or not, are die-hard church goers and attend Mass every single Sunday.  Which, makes a little bit of sense, as they certainly have a plethora of repenting to atone for.
SCUMBAGGED Tip:  Stay away from Motel 9 at all costs – even if that's your sorta thing (drugs and prostitution).  There's way better places to stay for $20 more that are much safer and far more discreet.  To stay in a place like this, you will more than likely walk away with either HIV, bed-bugs, scabies or far, far worse…
References:
http://www.morningjournal.com/article/MJ/20130412/NEWS/304129987
https://www.tripadvisor.com/Hotel_Review-g50313-d123676-Reviews-Motel_9-Elyria_Ohio.html