In my opinion, Debra Tri at Simplicity MedSpa injured me and took no responsibility for her actions. I was overcharged for the procedure she did, I found this out later after going to a reputable MD doctor. I was told that what Debra Tri did to me was ethically irresponsible and shame on her for putting me at risk for a procedure she had no control over. Her assistant Tracy Riggs – Glesener was a debtor in Washington State and had a Warrant For Unpaid Taxes – Employment Security 5368481858 (Satisfaction Of Warrant Id 950473053) on 09/24/03.
Her assistant Tracy Riggs – Glesener called me constantly on my phone asking me if I wanted to come in for "specials" or deals they had going, the calls were always when I was at work or inconvenient times. They were so seemingly desperate for my business or any and that should have been my red flag.
Debra Tri had no proof that the procedure she did to me actually works! There is no doctor at Simplicity MedSpa and the nearest hospital is not close at all. I want everyone to know how scary this place is and I never realized how much risk I put myself in by going here.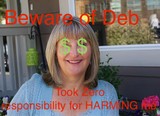 "I was scammed not only financially but as a patient and my patient care as I learned more from an MD and the damage she caused me for life."
I would beg anyone to see a medical DOCTOR who is at a hospital or affiliation and not a small business like this. There is no accountability she will take and I don't want anyone to end up hurt like me.
Company information
Address: 19944 Ballinger Way NE, Shoreline, WA 98155
Phone: (206) 643-5325
SCUMBAGGED Tip:  Perhaps people should take into consideration that not in all cases do procedures go exactly as planned.  Take into further account that sometimes you don't have to fix what isn't broken.  Unsure as to the exact situations regarding this submission specifically due to a lack of photographic imagery supplied from the submitter.  However, I would also err on the side of caution regarding any surgery that could result in complications, especially when waivers have to be signed.  People are people, mistakes are made.