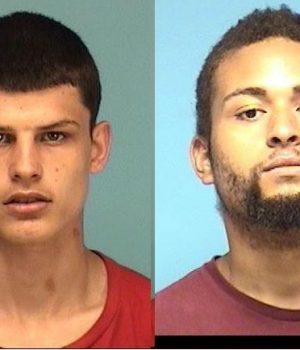 On 7/31/2019 Benjamin Decost & Dale Johnson were "Locked Up" in the Lorain County Jail.  Their names & detailed information pertaining to their cases can be found below.  It should be noted that individuals are presumed innocent until proven guilty.  However, approximately 95% of these individuals will be found guilty of their crimes.  Most will be sentenced to serve time in the county jail, prison or released & placed on probation.
If you're interested in submitting an individual who is locked up for a heinous crime (or if you would like to submit more information on this individual or any other individual) please use Scumbagged.com's Article Submit Feature located here.   If you feel that the information published on this page is inaccurate, please contact us.  All information has been provided by the Lorain County Jail.  This information is served to inform and educate the public about those that are in their community.
Information:   These two men were wanted in connection with the shooting death of a Lorain teen and they are now in custody.  Lorain police issued warrants for complicity to felonious assault for Benjamin Decost Jr., 20, and Dale Johnson, 21, Monday evening and they were arrested Tuesday.  Eduardo Aaron Vasquez Jr., 16, was shot about 12:15 a.m. Thursday in the 500 block of Washington Avenue. He later died at Mercy Health hospital.  Read full story here.

MUGSHOTS

Inmate Detail – DECOST, BENJAMIN WILLIAM
Demographic Information
DECOST, BENJAMIN WILLIAM
518355
07/27/1999
20
Male
White
6′ 1″
130.0 lbs

LORAIN, Ohio 44052
Booking History
 2019-00158280
7/31/2019 5:51 AM
New Arrest
MAXIMUM
Lorain County Jail
$0.00
$0.00
Lorain Police Department
| Bond Number | Bond Type | Bond Amount |
| --- | --- | --- |
| 2019-00009287 | None | $0.00 |
| Charges | Court Date | Court | Court Room |
| --- | --- | --- | --- |
| 1 | 7/31/2019 1:00 PM | *Court | LMC |
| Number | Charge Description | Offense Date | | | | | | | | | Bond |
| --- | --- | --- | --- | --- | --- | --- | --- | --- | --- | --- | --- |
| 1 | Attempt to Commit Offense | 7/31/2019 5:57 AM | | | | | | | | | 2019-00009287 |

Inmate Detail – JOHNSON, DALE
Demographic Information
JOHNSON, DALE
504579
03/22/1998
21
Male
Black/African American
5′ 11″
174.0 lbs

LORAIN, Ohio 44052
Booking History
 2019-00158278
7/31/2019 5:38 AM
New Arrest
MAXIMUM
Lorain County Jail
$0.00
$0.00
Lorain Police Department
| Bond Number | Bond Type | Bond Amount |
| --- | --- | --- |
| 2019-00009285 | None | |
| Charges | Court Date | Court | Court Room |
| --- | --- | --- | --- |
| 1 | 7/31/2019 1:00 PM | *Court | LMC |
| Number | Charge Description | Offense Date | | | | | | | | | Bond |
| --- | --- | --- | --- | --- | --- | --- | --- | --- | --- | --- | --- |
| 1 | Attempt to Commit Offense | 7/31/2019 5:41 AM | | | | | | | | | 2019-00009285 |
 2017-00136682
1/21/2017 1:31 AM
1/24/2017 8:20 PM
Warrant
$0.00
$0.00
Lorain County Sheriff's Office
| Bond Number | Bond Type | Bond Amount |
| --- | --- | --- |
| 2017-00000736 | None | $0.00 |
| Charges | Court Date | Court | Court Room |
| --- | --- | --- | --- |
| 1 | 1/23/2017 9:00 AM | *Court | DOM |
| Number | Charge Description | Offense Date | Docket Number | | Disposition | Disposition Date | | Crime Class | | | Bond |
| --- | --- | --- | --- | --- | --- | --- | --- | --- | --- | --- | --- |
| 1 | Acts in contempt of court | 1/21/2017 1:34 AM | 16JE48859 | | Court ordered release | 1/24/2017 | | Bench Warrant | | | 2017-00000736 |