Brittany Ross moved out of her mobile home at the Pine Ridge Mobile Home Park in North Ridgeville over two months ago and left her dogs behind.  Recently the power was turned off and they are living in filth.  The North Ridgeville police and APL have been notified and are "monitoring" the situation.  It should be noted that the dogs were rescued by a concerned citizen and turned over to the police department at one time.
In a recent turn of events they were just given back to Brittney Ross and what did she do?  She brought them back to the filthy, dark trailer and left again…  Currently, the windows are covered with blankets – no light or air flow!  There is feces and urine all over the floor!  Something has to be done about this!
COBRA Says:  We're certain that the NRPD will (if they haven't already) respond to this location on file and rescue the dogs once more.  Perhaps this time, they won't be so kind and simply give them back to Brittney?

THE BOTTOM LINE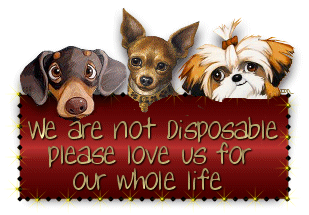 SCUMBAGGED Tip:  If you can barely support yourself why get pets at all?  It's hard enough for some people to take care of themselves and yet time and time again these same people continue to breed and purchase pets like it's going to change the fabric of their being.  You're either capable or you aren't.  If you aren't then don't, but if you do, then don't abandon them.  It's called stop being fucking lazy, make a post on Facebook and find the dogs a nice home.