In January of 2018, Kyle McCallihan was in the market for a new vehicle and so he headed out to his local car dealership, Auto Credit Sales in Post Falls, Idaho.  While browsing through the 70+ car selection, he found what he thought was a nice car & so he made the purchase.  His intentions of having a steady & reliable work car quickly turned into him having to purchase 3 additional vehicles. What he discovered underneath the waving flags, smiling salesmen and shiny cars was a lot full of lemons.
Within a three month period Mr. McCallihan had one car blow it's engine on the highway, another sabotaged by an Auto Credit Sales mechanic, one that had a slipping transmission, and one that he's currently driving with an engine knock.  As if those issues weren't already bad enough, things get even worse.  The company also tricked him into believing that they were covering some of the cost and giving him exchanges in regards to the vehicles breaking down, when in reality they were simply carrying over the negative equity from one car purchase to the next…  
In December of 2017 Mr. McCallihan made a $1,500 down payment for a 2005 Dodge Durango with 132,000 miles to Auto Credit Sales.  He had this vehicle for only a week and a half and the transmission began to slip so badly that he couldn't even put the car into reverse.  In January of 2018 he went back to the dealership and traded it in for something else.  He wound wind up purchasing a 2006 Dodge Magnum with 200,000 miles and would put down $2,000 on this vehicle.  The total cost would be $6,000.
His hopes of having this vehicle for any lengthy period of time were quickly dashed.  While driving on the highway to work not even a full 2 days later it, the Magnum's engine threw a rod and the engine started knocking.   One of the lifters had collapsed.  The vehicle was yet another lemon from Auto Credit Sales in Post Falls, Idaho.

Mr. McCallihan then wen't back to the dealer and expressed his disgust and anger towards the repeated issues with the vehicles he was purchasing.  The salesman at the time assured him not to "worry about putting anything down on this one, we'll get you in a different ride."
Mr. McCallihan was then placed into a 2006 Buick Lucerne with 140,000 miles.  The Auto Credit Sales Post Falls Auto Dealer wanted $3,900 for the vehicle.  After financing, Mr. McCallihan was looking at $5,400.  They assured him once again that he didn't have to put anything down since he had just purchased the Magnum and so off he went just hoping he could get to and from work.
Then, like a bad case of deja-vu or a sick and twisted version of the movie Groundhog Day, disaster struck again!  Not even 7 days later and he noticed that there were large oil spots left on his driveway.  Out of fear of having purchased yet another lemon, he immediately went back to the dealership and asked them what was going on with the car.  They informed him that they would fix the seals.  Two days later he received notice that his car was finished and so he went up to the dealership to retrieve his car.  Not even one mile down the road and he knew something was wrong.  When putting the vehicle into gear, the whole car would shift forward…
"I then turned around and drove the vehicle right back to the dealership.  This was bullshit.  I said hey guys it's making a weird sound that it never made before and it's jumping when I press the gas".  The dealership then had their mechanic(s) take a look at the vehicle, to which a mechanic by the name of Tim responded "It's the fucking exchaust, it's just a fucking exhaust leak."
Mr. McCallihan drove the vehicle off the lot and went to another mechanic to have them review the status of his vehicle.  That mechanic informed him that all of the engine mounts on the vehicle were cracked, the transmission shifter cable was put in incorrectly and the seal job wasn't done thoroughly as there was oil leaking from the vehicle profusely.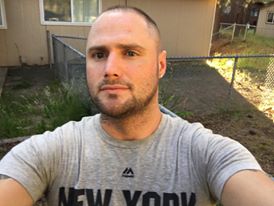 "Took it to another mechanic and the guy told me that the transmission cable was put in incorrectly and that it's still was leaking oil from the back of the engine".
Mr. McCallihan, then in a financial pickle after having exhausted all of his available funds on 3 vehicles from the Auto Credit Sales Post Falls Dealership, had to return once again to try and get into something that was durable.
"Then I decided I needed a different vehicle, I can't keep this you know,  it wasn't running right and I have to get to work.  So I then went back to the dealership and said hey I need a new car".  After the financing was completed for a 2007 Dodge Durango with 150,000 miles they asked "How bad's the Buick?".  And I told them that "It's horrible, you can't drive it, its leaking oil, transmission is going, all the engine mounts are cracked".  He's like "Really? I got to take it to auction then I can't put it back on the lot"  – When in reality "they did put it back on the lot and sold it to someone else.  So I searched up scumbag car lots, saw your website and decided to post this, because everyone needs to know!"
COBRA Says:  Only some real scumbags would do this to someone.  Especially someone like Mr. McCallihan who works upwards of 80 hours per week and just keeps spending all of his hard earned money trying to get a simple "A to B" vehicle.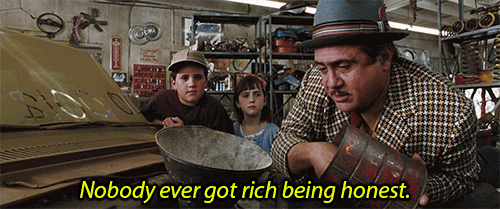 Mr. McCallihan paid another $3,000 down payment for the 2007 Dodge Durango, the total of that vehicle being $6,900.   After driving it off the lot he noticed that this vehicle had an engine knock.  He asked the dealership about this issue and they informed him "that it's fine, it's just a normal noise older engines make sometimes".
"I'm just waiting on this car to blow up on me too.  Tim the mechanic that sabotaged my car wound up being fired – right when it was discovered that the transmission shifter cable was put in incorrectly, I called and talked to the boss, let him know what he did and 3 days later the guy was fired due to improperly working on vehicles."
Not So Fun Fact:  When all is said and done Kyle McCallihan now owe's $14,300 due to the previous vehicles negative equity and the interest rates.  The dealership continued to carry over the negative equity car after car after car after car.  
Total Lemon Cars = 2005 Dodge Durango, 2006 Dodge Magnum, 2006 Buick & a 2007 Dodge Durango in the making.
Total Down Payments = $6,500
Total Paid for Repairs = $2,000 (they even had him pay for repairs days and weeks later)
Total Invested = $8,500
Remaining Still Owed = $14,300
Anticipated Total Payments = $22,800

In exchange for $22,800 Mr. McCallihan will be left with a 2007 Dodge Durango that will have more than 300,000 miles (and we all know it won't even see another 20,000).   

Company Information
The information provided below is for informational and educational purposes only.  This is to advise you of the specific location of this car dealership and to hopefully help you avoid any unwanted losses in the near future…  Do not use this info in any illegal manner.
Horror Stories
Upon further inquiry, negative reviews can be found in abundance on this company.  It should also be noted that the plethora of positive reviews the company has received are from 1 or 2 review individuals (in most cases, the company and their employees making accounts themselves).  https://www.yelp.com/biz/auto-credit-sales-post-falls-post-fall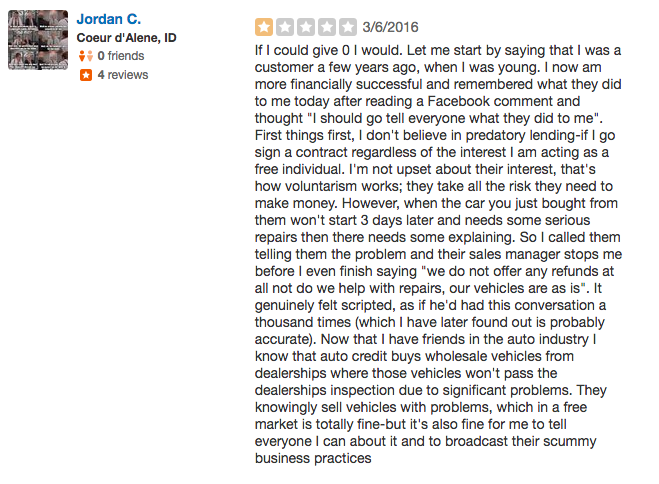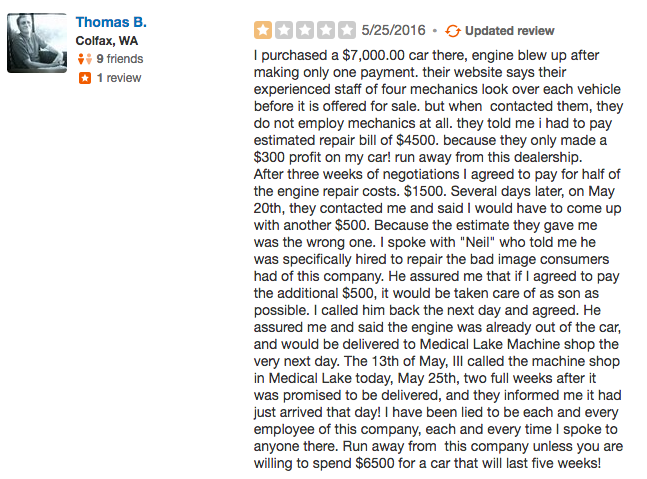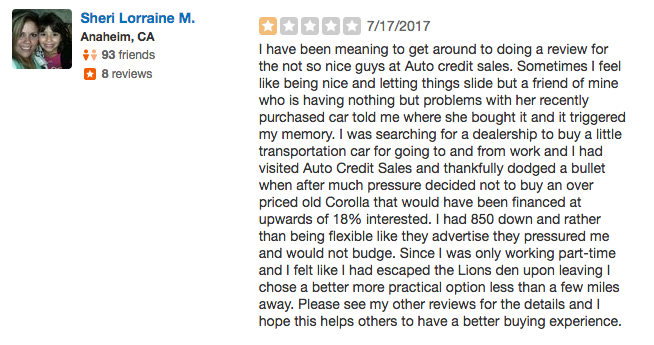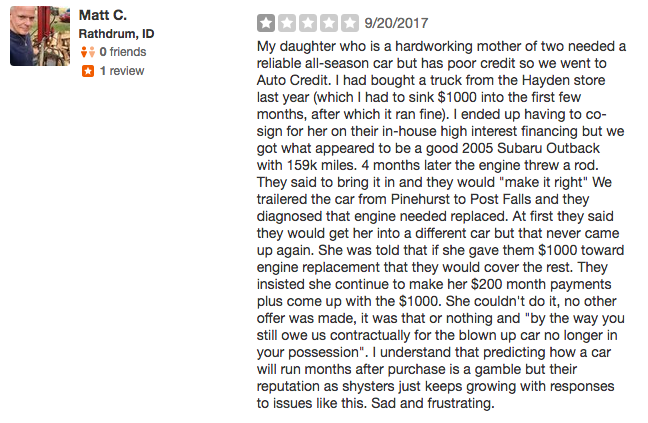 Idaho's
Lemon Law
There might be some help yet for Mr. McCallihan and the countless others who have purchased vehicles from Auto Credit Sales.  According to Idaho's Lemon Law (official documentation can be found by clicking here) if the vehicle breaks down within a 30 day period and all attempts are exhausted (at the company's expense) to fix the vehicle without a fixed result, then a full refund is in order.  The Lemon Law also goes on to state extremely lenient terms for falling under the "Lemon Law" statute.
Fun Fact:  Mr. McCallihan was forced to pay thousands of dollars to Auto Credit Sales for repairs made to his vehicles that he had only purchased in some cases days or weeks prior.  This is illegal.  

The Bottom Line:  Kyle McCallihan was given the runaround time and time again.  He was manipulated and forced to purchase vehicle after vehicle after vehicle.  Auto Credit Sales would take all of his money and leave him with no opportunity to get to work.  Forcing him to have to get a new vehicle each time the previous one would break down.  It's illegal what happened and this type of activity should be reported to the local authorities.
SCUMBAGGED Tip:  Do not purchase any vehicles from Auto Credit Sales located in Post Falls, Idaho.  It's fairly apparent that they are slimy dealers who just want to make a quick buck.  If you buy a car from there, you're going to be paying a 50% markup and run the risk of it not even making it to your own driveway.  You've been warned…
Have You Been Swindled?  Text the Scumbagged Tip Line at 440-745-5432 with your information.  Be sure to include dates, times and any pictures you may have and we'll include you in this article.