Richard Humphrey of Lorain, Ohio, is a menace to society.  He's been to Federal & State Prison numerous times and has a lengthy rap sheet.  Mr. Humphrey is a registered sex offender, he's assaulted law enforcement officers, been involved in robberies and has engaged in high level prostitution across the Northeast, Ohio, area for more than a decade.
In 2010 Mr. Humphrey was convicted of Unlawful Sexual Conduct with a minor, the girl, who was 15 at the time and subsequently forced to register as a Tier II sex offender.  In March of 2015 he was convicted of yet another sex-related offense.  This time he was arrested for prostitution out of Westlake & stemmed from 3 women that were being pimped out of the Red Roof Inn.  In that case, he had more than 8 women who were working for him in the high end suburbs of Cleveland of Ohio, however, for some reason the arrest only netted the 3 girls that were actually with him at the time.
Richard Humphrey also hides behind numerous online handles in an effort to mask his criminal activities.  He's gone by the name of To0 & Prodigy most often when dabbling in the criminal underworld of the warez scene.  Once upon a time, Mr. Humphrey operated some of the largest piracy websites in the country, most notably, USAWarez.com.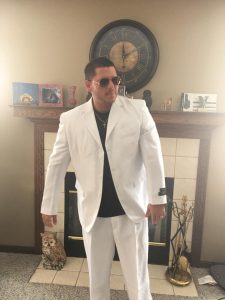 Fun Fact:  Richard has bragged about having more than 50 girls work for him over the course of the past 10 years.  He's also been seen on video having naked girls walking around his house, cleaning and cooking his meals.  Furthermore, he still operates large scale piracy websites with servers based in Hong Kong, China.
Mr. Humphrey is still believed to be currently engaged in high level prostitution offenses.  In the past, his criminal enterprise has spanned throughout the majority of Northeast Ohio from Mentor to Sandusky and Cleveland to Columbus.  It is unknown as to how many individuals he has working for him at this time or if he is still engaged in this type of activity.
He hires security guards while he operates in the underworld.  One man, a mutual friend of his, Steven Cass, can be seen with him on many occasions.  Matthew Brown has also done security work for Mr. Humphrey and was implicated in the 2015 charge.  Other mysterious individuals are seen with him, however those names have not been discovered.  Beyond security guards, he has several secretaries and thick layers of protection on & offline that make his new identities and illegal streaming piracy websites hard to locate.
It should also be noted that Richard Humphrey is a Tier III, lifetime registered sex offender now for his numerous offenses.  Rightly deserved…
Extensive Criminal History
In 2007 (Case #2007CRA03808 & #2007CRA03807) he was found guilty of assault on a police officer, domestic violence, resisting arrest and underage consumption.
In 2008 (Case #2008CRA02462 & #2008CRA00522)  he was convicted of menacing for repeatedly stalking and attacking a local area bar owner (Bull Frogs) and for underage consumption in North Ridgeville, Ohio.  A court order was issued from this event that restrained him from coming within 500 feet of the property owner and the bar.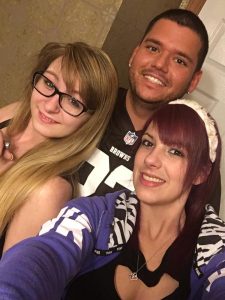 In 2009 (Case #2009CRB01538) he was found guilty of disorderly conduct, stemming from an assault that took place against Angel Collins.  The case went to trial and the charges were ultimately reduced, however, Ms. Collins repeatedly states to this day that Mr. Humphrey indeed punched her in the face numerous times.
In 2010 (Case #2010CRA00445) he was found guilty of unlawful sexual conduct with a minor and sentenced to a 1 year prison term which was ran concurrent with his federal time (to be fair, the girl did lie to Mr. Humphrey about her age and posed as an adult).  He was also placed on a 5 year PRC term from this event.  The girl, Catie Fawn, has been featured extensively on our website and you can see all her related articles here:  https://scumbagged.com/?s=catie
In 2010 (Federal #32425-160) he was sentenced to serve 29 months in federal prison for operating a large scale piracy website that provided movies still in theater for free.  He was also sentenced to a 3 year term of probation.
In 2014 (Case #CR-14-586407-A) he was convicted of promotion of prostitution, forced to forfeit his Audi and ordered to serve 2 years probation.
In 2015 (Case #CR-15-593842-A) Mr. Humphrey didn't update his address and was trying to evade authorities, as a result he was convicted for failure to register as a sex offender and sentenced to serve 6 months in state prison.
Richard Humphrey has also been featured in many local & national news articles stemming from his various criminal enterprises.  He thinks he is a criminal mastermind, perhaps, even a genius, but in reality he is nothing more than a thug, someone who has gotten caught for every single time, consistently committing offenses against individuals and creating illegal enterprises that corrupt, degrade and destroy local area communities.  All of which is for profit and self gaining purposes.
Mr. Humphrey has numerous "businesses" in the area.  The first is an estate sale and consignment company known as MegaTraders LLC., the second being his design company RJHDesigns.  There are others, of that we are certain, but due to extensive Whois and business registration that information has been difficult to obtain.
Humphrey also lives a rich and lavish lifestyle.  One that includes helicopter rides, limos, extensive partying, $1,000 bar tabs, vacations, high end restaurants and more, every single day of the week.  His excessive cash-flow can only be matched by his excessive nature for "more".
He most recently posted a GoFundMe in an attempt to swindle individuals out of $10,000 in an effort that he stated on the page was "to buy a house and create a stable environment for a new baby".
See the pathetic GoFundMe: https://www.gofundme.com/a-stable-environment-for-a-new-baby
COBRA Says:  This dude is real scumbag.  He's a mixed bag of poison, operating both on and offline, you can't even see this guy coming in some cases.  Someone like this is a danger to society and hopefully this article will generate awareness into the community and those that are interacting with him, just who he really is, a fucking scumbag!
SCUMBAGGED Tip:  If anyone comes across Richard Humphrey, be warned, he is a con-artist that has deprived the United States Government from millions in taxes and cost thousands of jobs in the American economy.  He's also a sexual deviant, one who will take advantage of you if he can.  Mr. Humphrey if you're reading this, it's not too late to seek out god and repent for your sins.  Maybe you won't have to serve a lengthier term, in the afterlife.
References:
https://www.justice.gov/opa/pr/ohio-man-sentenced-29-months-prison-selling-pirated-copies-movies
http://sheriffalerts.com/cap_office_disclaimer.php?office=55180&fwd=aHR0cDovL3d3dy5jb21tdW5pdHlub3RpZmljYXRpb24uY29tL2NhcF9tYWluLnBocD9vZmZpY2U9NTUxODA=
https://cpdocket.cp.cuyahogacounty.us/CR_CaseInformation_Summary.aspx?q=Aneszn0Zkg8JpyMfAXM89g2